I grew up in Southern Indiana where wild black raspberries crowded the fence rows, thunderstorms rolled in like a dark and majestic symphony, and I was never without a friend because of the gigantic family I shared a last name with.
When I moved out to Utah to attend Brigham Young University, I did an internship at a dude ranch in the middle of no where southern Utah. That summer I met a handsome hardworking boy and we got married just months later. Eight years, 3 degrees, 4 babies, a remodel, and lots of moving later, we have again found ourselves in the middle of no where southern Utah. The red rock, lack of distraction, and land to grow babies, lambs, and gardens are perfect for me and my family. My happiness here doesn't mean I don't miss my family back East though.
Going to Indiana to visit doesn't happen often, but when it does I still think of the adventure as "going home". As we drove through the rolling hills of southern Indiana last week on I-64 I took a deep breath and felt something inside me fill. Returning home to Indiana closes a gap inside of me that I don't notice until I return to that place.
I wanted to share the adventure with you because it does mean so much to me. AND so many people don't even know where Indiana is or how beautiful it is. I feel like I'm doing you a favor by letting you in on one of the nations best kept secrets.
We piled all 4 of our kids into our Suburban and started off on a non-stop journey across the country. We like to drive straight because those quiet nighttime hours are the best for traveling with littles. No potty breaks, no calls for water and more snacks, and no "are we there yet's".
After some car sickness two hours into the drive, honestly scary ice and snow crossing the Rockies in Colorado, and about 3 pounds of whole grain goldfish crackers later we pulled into my parents house in Northern Kentucky, 29 hours and 20 minutes after we left. That trip isn't for the faint of heart, but I never ever regret doing it once it is all said and done.
My kids kept asking if we were in a rain forest because of all the trees that line the interstate as you head into the heart of the midwest. And all I could say is, "yes, a rain forest indeed!", because compared to our high desert red rock landscape it is a rain forest!
The air in Indiana and Kentucky smells moist and alive. It's such a delicious smell.
My dad has been working on family history a lot lately and it was so much fun to see the pictures he's acquired from grandparents and to hear some of the stories he's learned. This is a picture of Effie Mae Wellman, my mother's great grandma (she's on the left).
And here's something even better. Mom had a box of her things that she had gotten when her grandparents died. She recently took the pretty wood box out of storage and keeps it on the piano now. It's full of odds and ends and was so much fun to go though.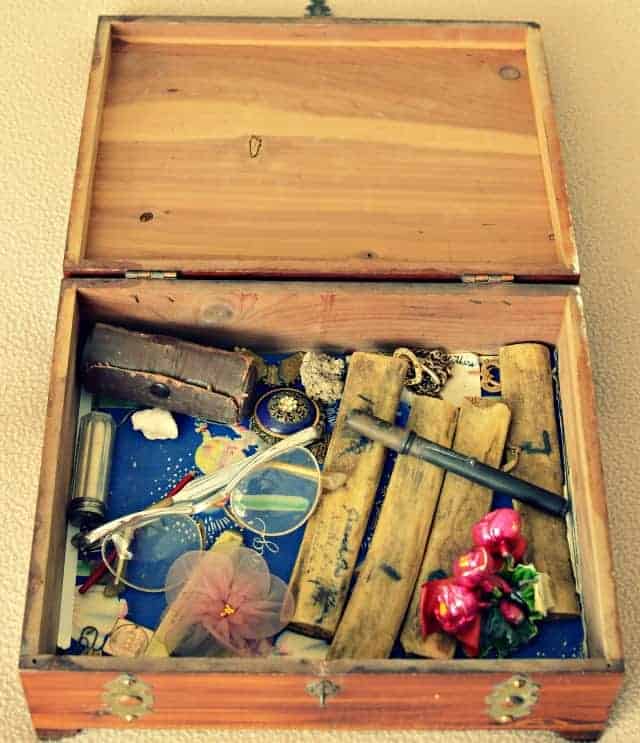 Those long things are bones! They have numbers and names on them… it was either a game or some kind of voodoo thing, weird right?! The brown cylinder is a gorgeous little leather sewing kit, and the other things are just random treasures. These were her things! Here's my oldest son in a pair of glasses from Effie Mae's box.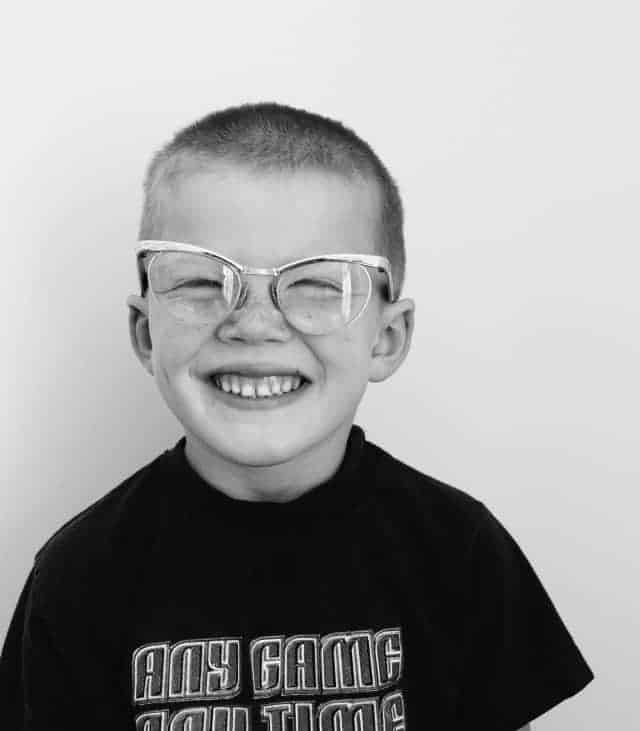 I love things like this! Little connections to the past. I knew Effie Mae's name from looking over my family history and I've always really liked it. I've through about using the name on more than one occasion. Going through this little box and seeing her pictures made her so much more real.
Looking through this box and enjoying my dad tell me a bit about his family history research was one of the first things that happened once we got there. I think that it opened my eyes to how much I like preserving my own personal history. I relish the stories of the people I love, and my kids and their kids will never know so many of those stories, and ultimately people, if I'm not willing to take the time to record them. Three cheers for living in the digital camera age!
I took lots and lots of pictures that tell personal stories and now I just have to write them down.
For instance, this is a quilt that my mom's grandma made and hand quilted. It is gorgeous! After taking an intro to piece quilting class recently I was so excited to go through amazing family quilts and take pictures of them. This quilt is a log cabin quilt block put together in a pattern called "barn raising". I'm so in love with it that I decided I'm going to make something similar for my own bed as my very first large quilt. It might take me 3 years, but I'm going to do it. Oh how I love the detication and work that go into large projects like this. Quilts have such beautiful stories to tell.
Here's another quilt done by my great grandma. The quilts will be a whole post on their own, but I wanted to share a few right now.
And here's what the behind the scenes of a quilt photo shoot looks like – my sister-in-law snuggling under the pile.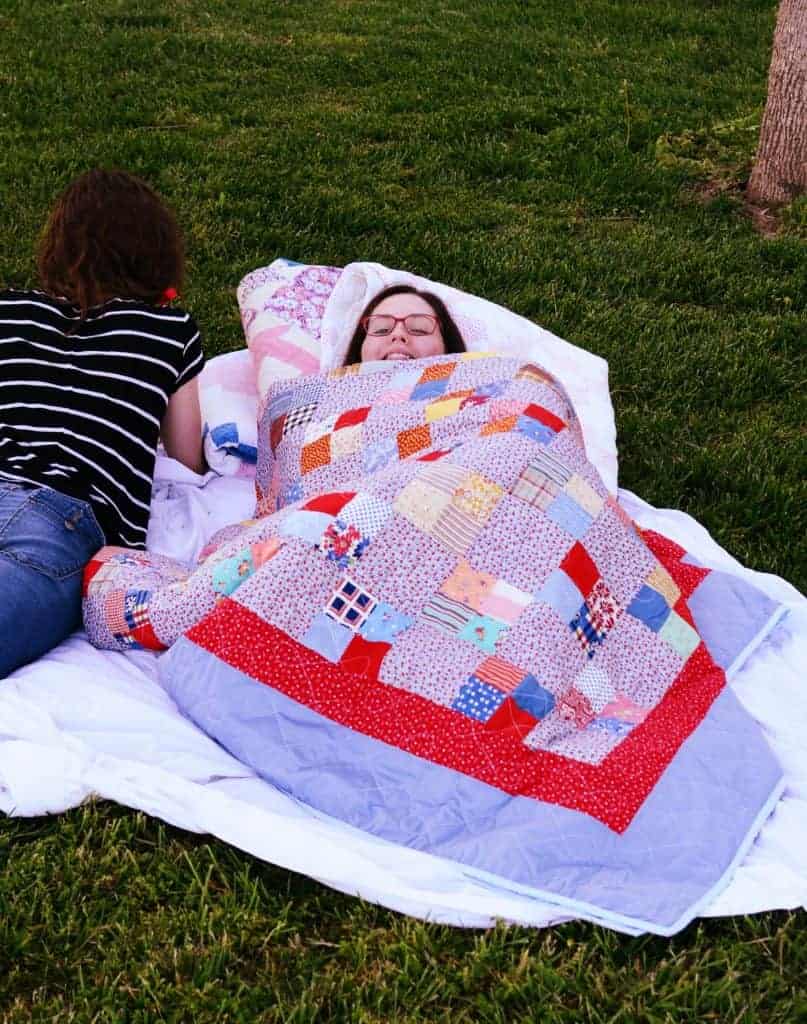 It was so much fun to spend with my siblings, and parents, and nephew.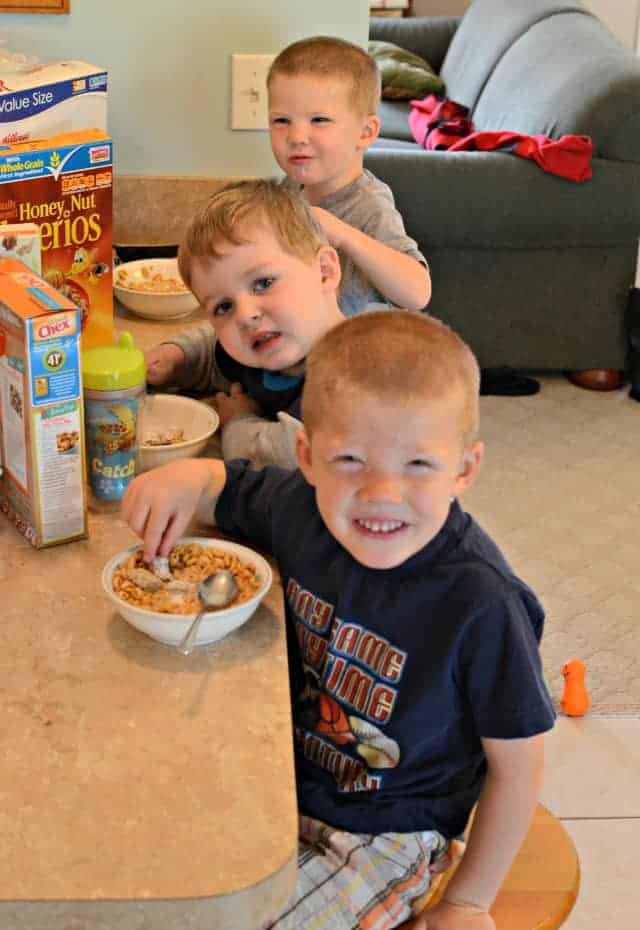 The riding lawn mower was quite the attraction (and my brother is a nut! We sure miss him living with us…).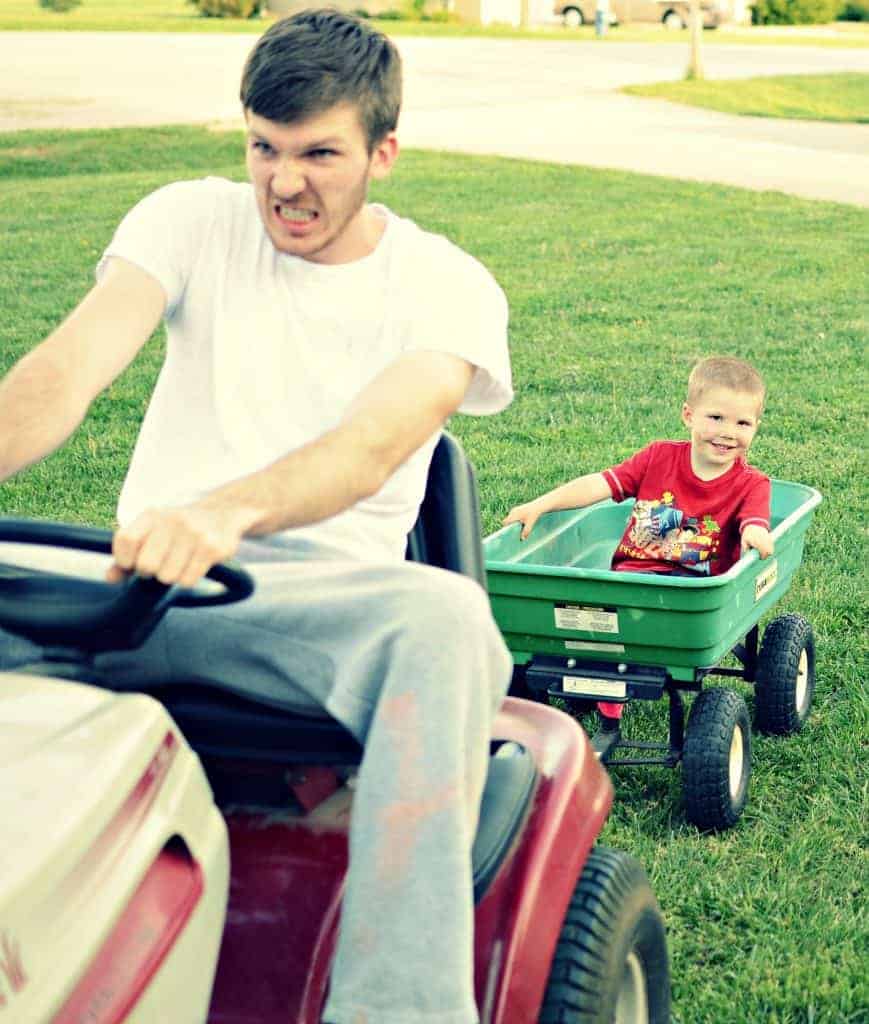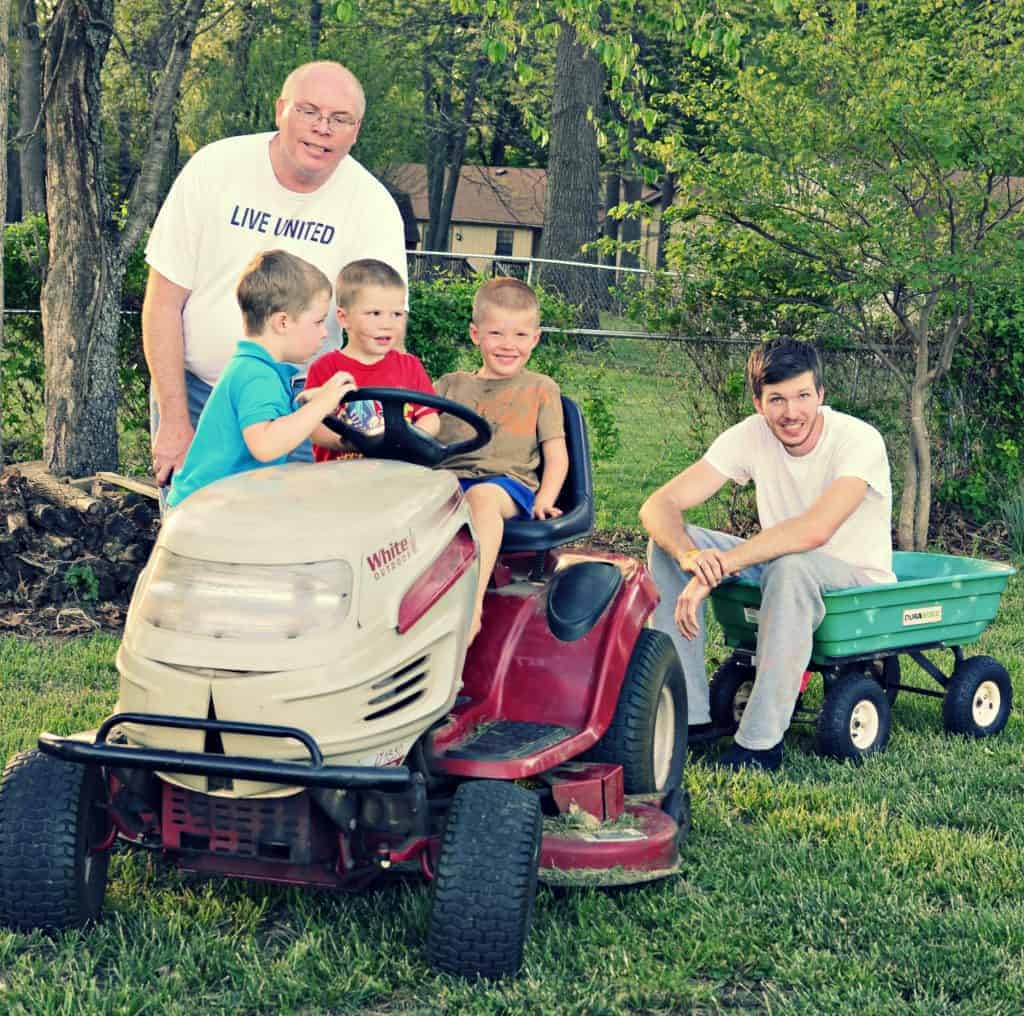 And Mom's lilacs were blooming. The other day on instagram I took a picture of my own lilacs out my kitchen window and said, "The view out my kitchen window is so very purple today and the house smells like lilacs and memories." I think it's time to write down the lilac memories.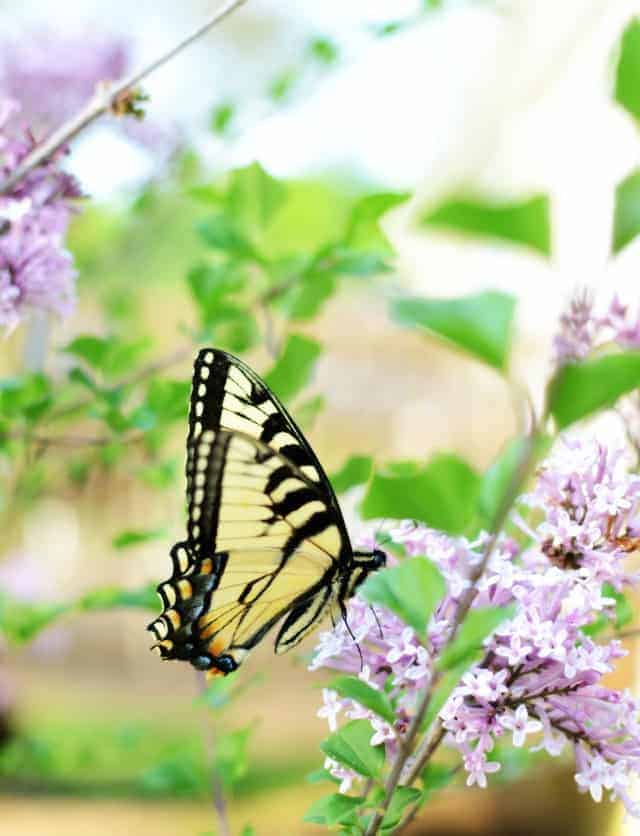 We also made time to go to the temple in Louisville. This is where Thomas and I were married and I so enjoy going back.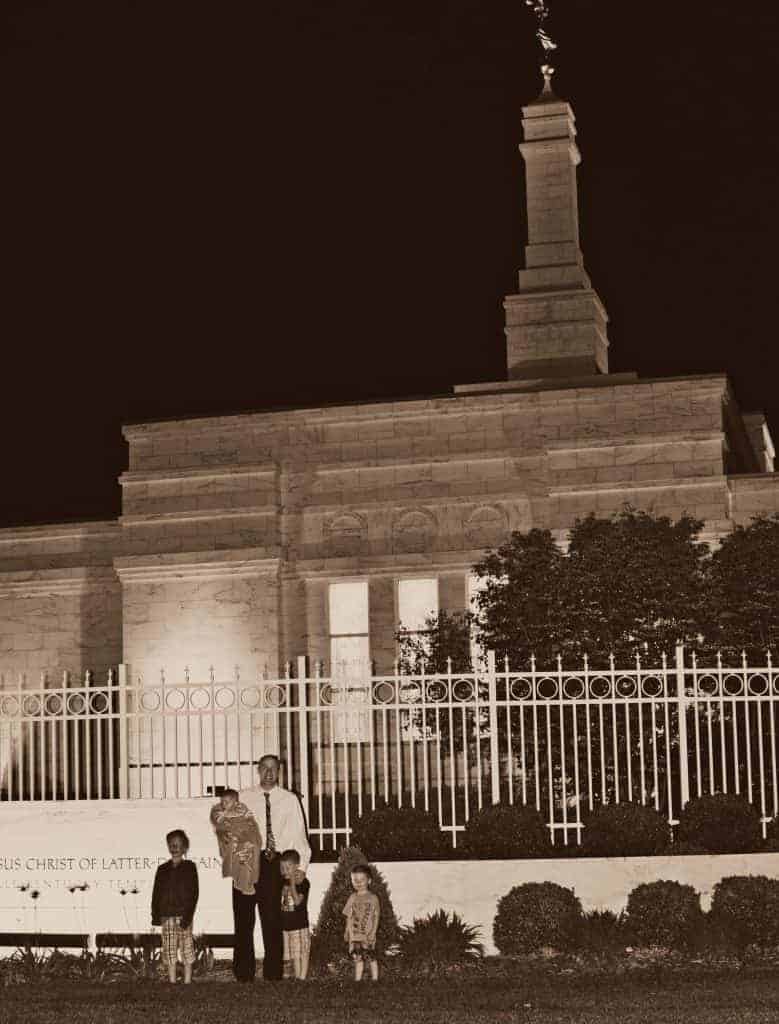 And then we made our way across the river from Northern Kentucky into my childhood.
I'll always be a Hoosier at heart.
The people in this little area of the world are some of the kindest you'll ever meet. My high school best friend drove a few hours just to visit me and I even had the chance to meet up with Cassie from Wholefully. I was so excited to finally meet someone I enjoy so much online and she did not disappoint. She's even more fun and kind in real life (which isn't always the case when it comes to meeting online folks, trust me!) It's the Midwest in her, she can't help but be genuine (and isn't she a glowy pregnant lady!).
I was lucky enough to live close to all of my grandparents and I love taking my own kids to their houses to visit. Sometimes I just hate that my kids don't know my family like they know Thomas'. But I try to tell them stories often of my childhood and these people that I love so much and I hope that it connects them in some way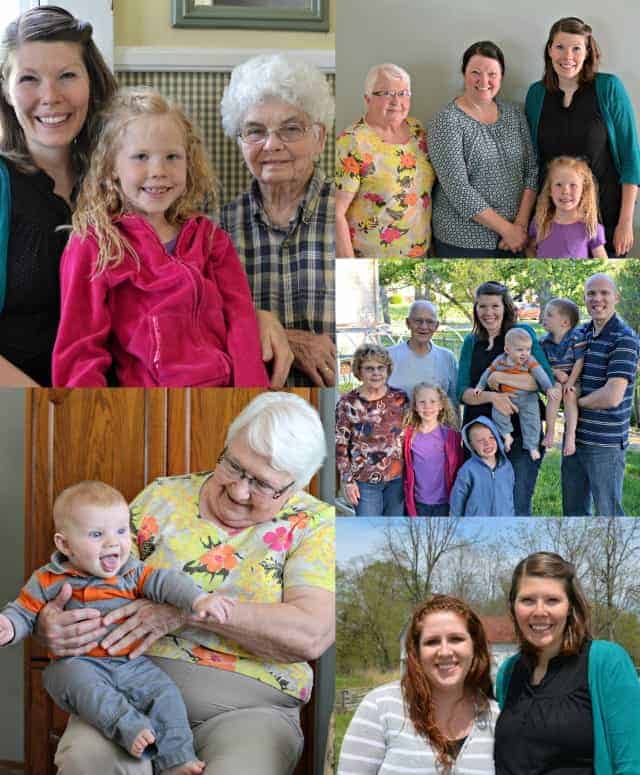 My dad's mom lives on a gorgeous farm. We lived about a mile from here in my childhood and spent many many hours at her farm enjoying life and family alike.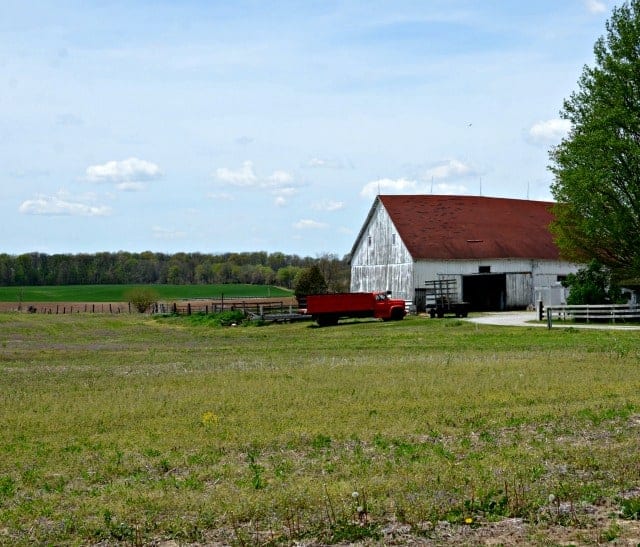 This land and it's memories play such a big role in my own desires and life goals. I plan to make similar memories for my own kids and grandkids via a country life.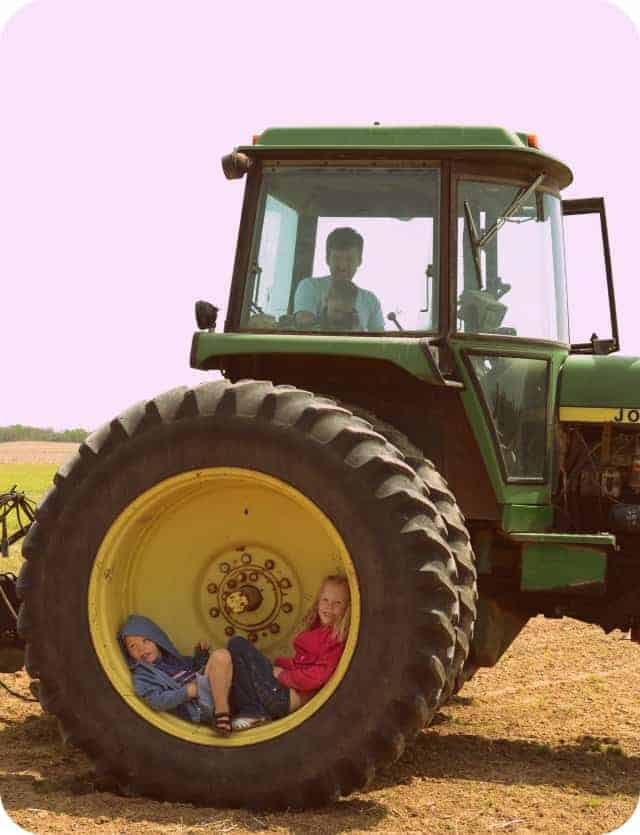 My grandma also has full-size playground equipment in her yard. How cool is that! We used to go bug all the adults chatting inside to try and find someone to push us on this merry-go-round. The best uncles and older cousins were the ones who would indulge and send us spinning.
My grandma's lilacs were in bloom too. Most of us were over by the tractor and strawberry patch poking around while my dad and grandma (his mom) were walking through the yard. Grandpa passed away last February, but grandma has been well takencare of by her kids. Having 13 of them does mean you have a few around to help 🙂
Dad and Grandma were walking through the yard, Grandma with her cane in hand. They stopped at the lilac tree where Grandma reached up with her cane to pull down a high bloom-filled branch. Dad cut her a bouquet from the lowered branch. When he was finished cutting she let go of the branch and Dad held out his harvest for Grandma to smell. I looked over to see my little white-haired grandma smelling a bouquet of lilacs freshly picked for her by her son, my papa. My heart swelled in my chest. Being near people I love fills me. I wished so much that I had had my camera over there to capture the moment. I didn't though, so now writing it down will capture it in a different way.
And then we went inside and I got a drink of Grandma's deliciously earthy well-water. While I was standing at the sink, like I had a thousand times before, I noticed Grandma's watch where she keeps it in the window sill while she does dishes. I've seen it there so many times before, but today I wanted to remember it. Sometimes the everyday things are what I miss most when I'm far from my family.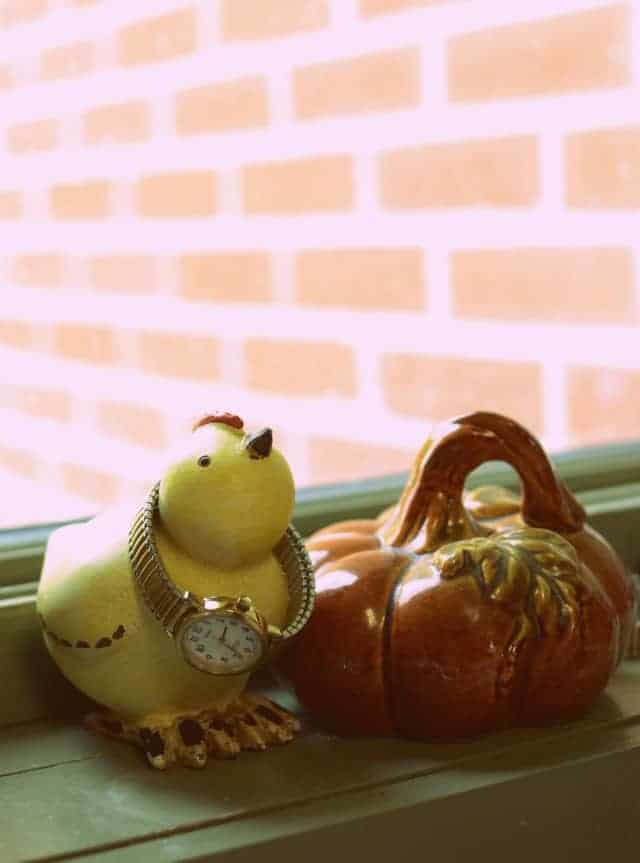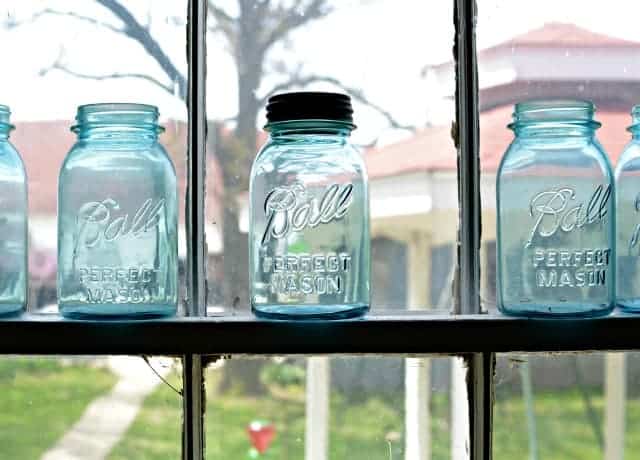 The grandparent visiting continued.
My other grandma has excellent light in her living room.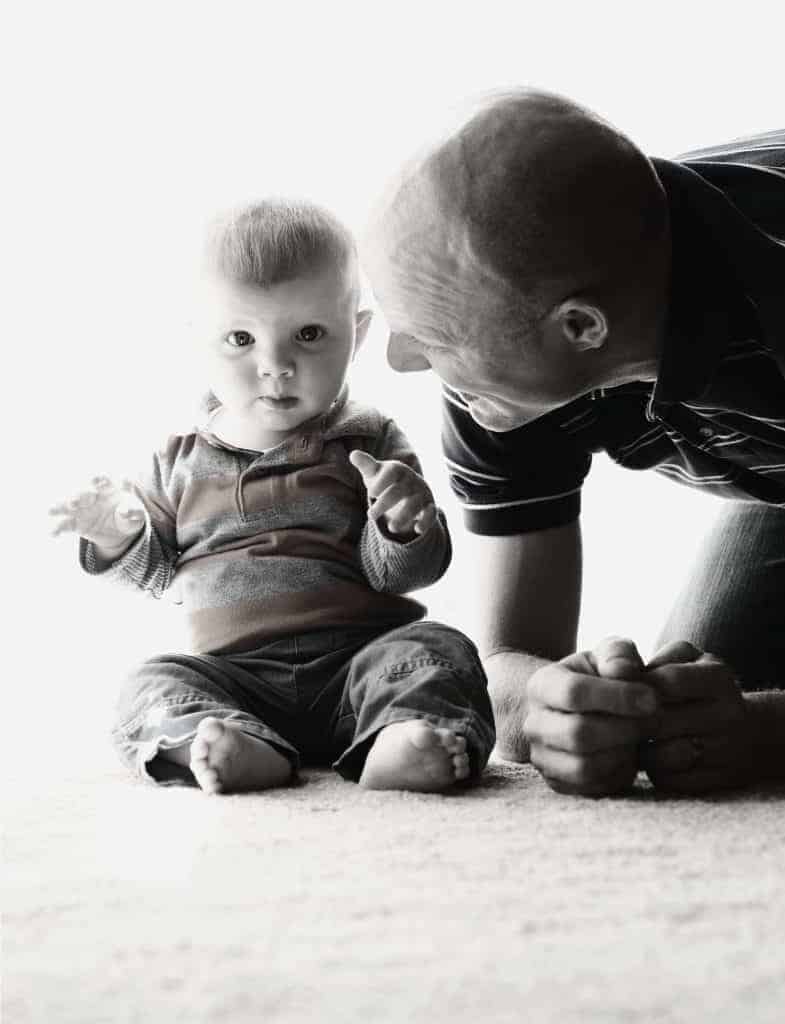 Passed out in Grandpa's chair after dinner.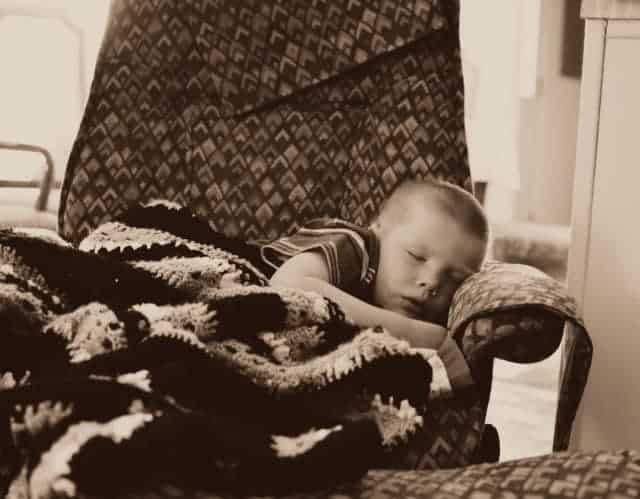 Grandpa is always good for a game of serious croquet.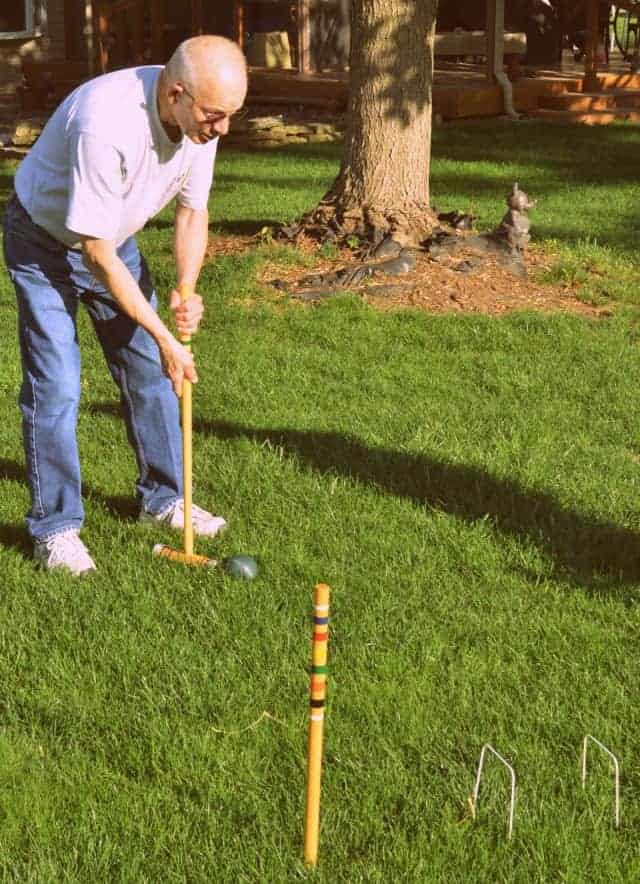 This grandpa is the man who painted and gave me the two water colors on my hutch. I sat down at a little table on his porch to chat and noticed a new work in progress. What I loved most was the little practice strokes in the corner. My grandpa takes time to develop and then share his talents and to me it's time well spent. I'm so grateful he's been willing to share his work with me. I know that it takes time and effort and the fact that he gives it away says something about him.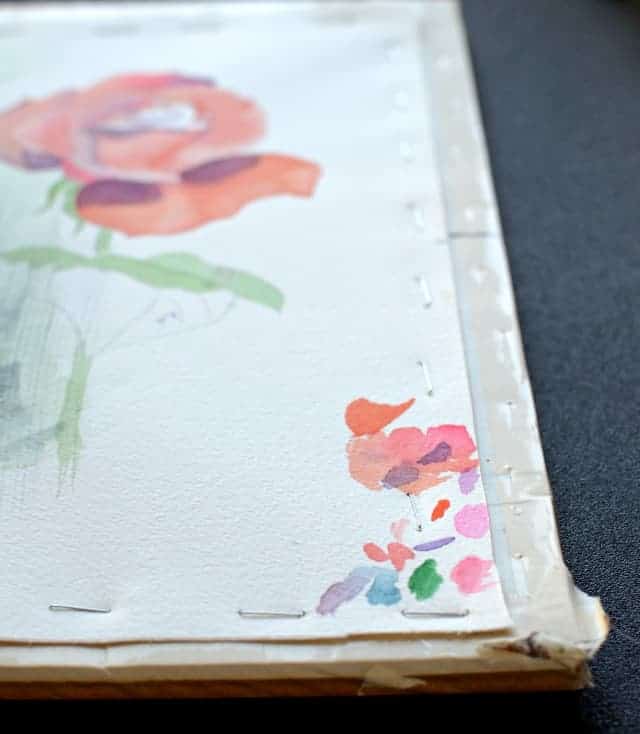 And with one day left we had a fun evening at my mom's celebrating my baby sister turning 17 (!!) and just enjoying being together.
I should give scarves as gifts more often. The post-opening antics were super funny.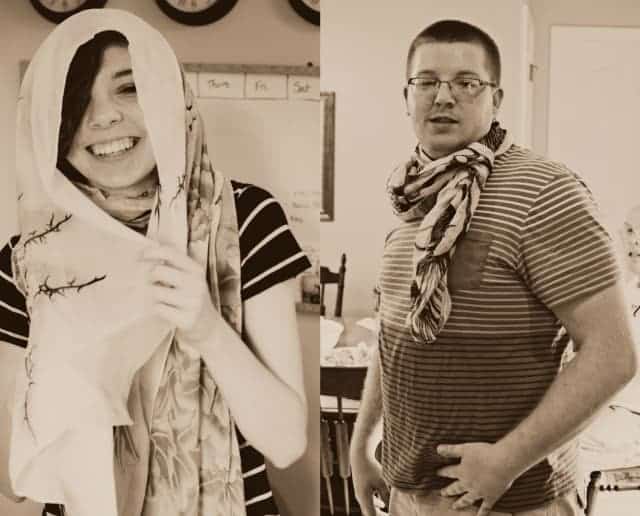 And before we knew it, it was time to drive another 28 hours home to Utah.
My oldest and I cried leaving the state and my little boys ask to go back to "Kentuckies" every day since.
Once you get a little Midwest in your heart it's hard to get it out again.