I feel like I have some maintenance to do on the blog, and I need your help!
First order of business.
Will you please take this survey? It's 9 questions, anonymous, and shouldn't take more than 3 minutes. I want to know what you want, what you like, what you don't. How can I improve?! These are questions that keep me up and night and I think that a survey will help me to really know what you dear reader, want. I'm here for you...
FILL OUT SURVEY HERE!
And yes, I just yelled that at you.
Second order of business.
I need explain something to you. When it comes to giveaways, I asked the company to do them. I was either using their product already and like it (and sent them an email asking for them to host a giveaway for you). OR someone emailed me asking if I wanted some free product in the mail. If I liked the product then I ask them to send some to you guys too. OR I pay for a portion of the prize to participate. Giveaways are things that I set up on my own because I think that you deserve some perks for reading my blog. Do you like them? Should I keep doing it? That's part of the survey... 🙂
You can enter to win a case of Sabra hummus here and get a recipe for homemade pita chips. (I emailed them...)
You can enter to win $500 cash here and get a recipe for the most amazing Reese's stuffed peanut butter s'mores bars here. (I paid to participate, but won't be doing this one again. WAY too many entries; I had no idea before it went live!)
Sponsored posts are a whole different thing. Once in a while (6 times in the last 2 years to be exact), I say that I will blog about something in exchange for money. I have opportunities to do this everyday but very very few are things that I feel like I want to "sell" to you. I have to really like the product if I'm going to tell you to use it or to promote it. I know some bloggers can get away with selling people on toilet paper, but heaven help me if I ever come to that. That being said, I am actively pursuing more sponsored posts. I'd like to bump up my number to once a month. How does that make you feel?
Third order of business.
This was a really fun week on the blog for me.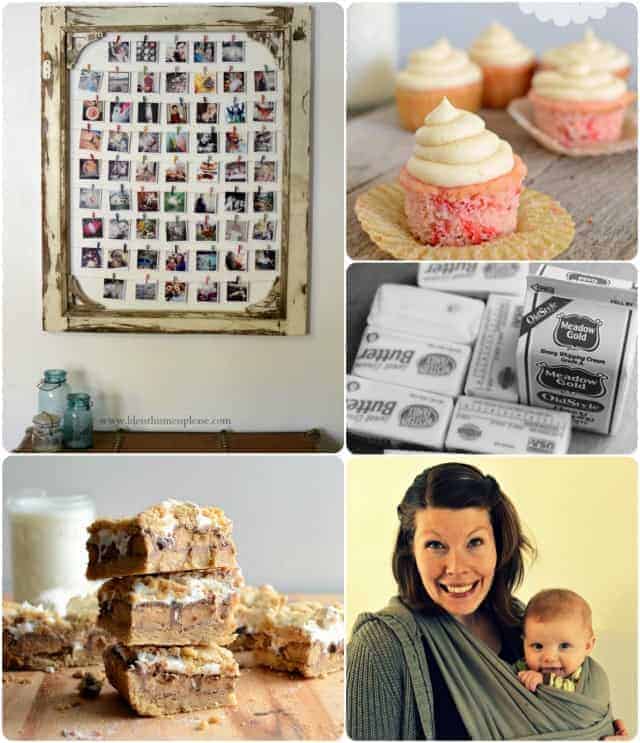 Did you see my "day in the life" post? It's 3,000 words all about how I get things done! It was so much fun to write. Of course no two days are exactly the same but you can get an idea of the schedule I try to keep.
My DIY Instagram photo display from an old screen door is the love of my living room right now. Having those pictures out for the world to see makes my soul happy. MAKE ONE!
And these cupcakes... oh these cupcakes. It's taken every ounce of self-control to not make them again. Homemade Cherry Chip is the best! And if you try nothing else, make the icing.
Fourth order of business.
I'm getting a new blog design! It's been in the works for months and should go live in the next couple of weeks. I need things like a better recipe index and a more obvious search option. Any other suggestions on the design, layout, and functionality of the blog? You are the users... tell me what you need!
Fifth and final order of business.
I'm writing an e-book! My clean eating meal plan is the most popular post on my blog every day. I love it. I love that topic. I love eating clean. I love real food! So I'm writing a book that is basically a new more detailed version of that post. 14 days of real food (full new healthier meal plan), with more info on the hows and whys, shopping list, and more. I've been working on it since January and it's a slow process because well, I don't work on it tons. My talented friend Becca is doing the design and it is looking gorgeous! I plan to be done by August of this year. Here's the questions. What's a good price? I'm thinking $4.99 any thoughts on that?
There you have it! I have some questions and would love some answers!
Thanks so much for being part of Bless this Mess. Let's make it great!