The giveaway is now closed. Congrats to Dorie D. on winning the prize!
Living a healthy and whole life is about a lot more than food if you ask me. I try to be intentional about what we put in our bodies as well as what we put on them. I saw a little meme somewhere that said something like - buying organic food and then slathering your largest organ with chemicals just doesn't make sense. I've thought a lot about that and it's so true. We'd all be better off if we stopped using so many crazy things and just used normal ingredients, in and on our bodies.
I've been slowly changing the types of products that I bring into our home and have made some great finds over the past few years. Today I thought I'd share those finds and hopefully encourage you to start thinking about making a few changes in your own life.
I have gotten on the DIY bandwagon when it comes to things like cleaners, laundry soap (still trying to find the perfect recipe though), and dryer sheet alternatives, but I haven't ventured into making my own skin care and beauty products. Those are things that I've been paying a little extra to purchase.
I thought I'd share 5 summer skin essentials for the whole family today. These are things that I've been using for a while and really like. When it comes to things like this sometimes I get nervous about making an initial purchase. I don't know if I'll like it and I don't want to waste my money. So in an effort to help you feel a little more brave and excited about trying some healthier and more natural alternatives to commercial skin products I'm including a giveaway! Check out the bottom of the post for more details.
So here are my favorite chemical-free natural lotion, deodorant, sunscreen, bug spray, and lip balm; items you need all summer long and great places to start buying healthier alternatives.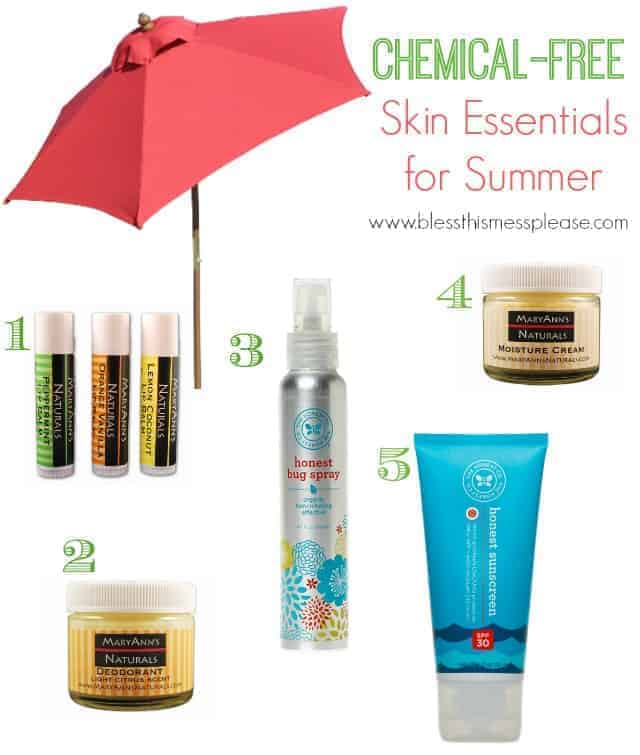 5 Chemical Free Summer Skin Essentials for the Whole Family
1. Lip Balm
Mary Ann's Naturals Organic Handcrafted Lip Balm

Chapstick is the easiest product to swap out and definitely an essential for the summer months. Lip balm made with natural ingredients tastes delicious, smells even better, and leaves your lips softer than ever. There's nothing new to get used to when it comes to fancy chemical-free chapstick because it's a treat to use. You'll never go back to run-of-the-mill chapstick again.
2. Deodorant
Mary Ann's Naturals Organic Handcrafted Deodorant with Light Citrus Scent

Commercial deodorant was one of the first skin care products that I heard was bad for my health. It was also the hardest for me to give up. I think part of me felt like using natural deodorant was too "hippie" or "granola" and I didn't want that label (but really, who knows what kind of deodorant a person is using anyways?!). The cons of traditional deodorant far out weigh any social faux pas I was inflicting on myself though.
This deodorant is a solid about the texture of traditional deodorant but creamier. You use a little wooden spoon that comes with it and scoop a bit out of the jar (about a pea-size amount) and you roll it between your fingers to make it soft. Then you just softly rub the deodorant under your arms until your body heat warms it up and it melts right into your skin. It took me almost a full week of using it daily to decide that it worked for me and that I liked it. If I'm working extra hard or sweating a lot I will put it on a few times of day, which I'm ok with. One huge plus is there's never any white marks on my clothes from deodorant any more.
Here's a little testimonial for you. I'd been using this deodorant exclusively for 3 or 4 months and then I went on a trip and forgot it at home. I did have an old commercial deodorant in my bag so I just used that. Literally 36 hours after using normal deodorant I had two new large acne spots just under my jaw line. In the past I would often get acne that would last forever under my jaw line. I just chalked the disappearance to hormonal changes after the baby. But after this little unintentional experiment happened, I now know that my body doesn't like something in normal deodorant. The acne is near the glands in my throat. I think that my body collected whatever chemical it did in those gland and was then getting rid of it or reacting to it which showed up in the form of really yucky acne. Crazy huh? Our bodies are awesome at dealing with what we throw at and on them, but if I can help it out and avoid unwanted things (like acne) then I'm happy to use better ingredients, even if they cost a bit more.
3. Bug Spray
The Honest Co. Bug Spray
I worked with The Honest Co. last year and am so grateful that I was introduced to them. It's a great company who really knows how to do healthy home, baby, and personal hygiene products well. You can find everything form chemical free hand sanitize and laundry soap to baby wipes and gorgeous wooden toys. I have yet to order a product from them that I wasn't in love with. Great quality from a company who really cares. I'll take it.
I hated when my mom would spray us down with bug spray before an outdoor evening when I was a kid in southern Indiana. You had to wear it though or you'd be eaten alive by mosquitos and be left itching for days. The worst part was how I could taste the bug spray in my mouth when she was done. Do you know what I'm talking about?! I'm not sure if it was the spray, the smell, or the chemicals, but it always left a nasty taste in my mouth. When I found out that you could buy a chemical free bug repellent I was super excited and pretty skeptical. But after using bug repellent from the Honest Co. for the last year I'm please to say it works great without any nasty tastes.
The spray goes on well and is easy to rub a little onto certain spots like the back of the ears. It does not last as long as commercial insect repellent (I reapply ever 2-3 hours if they bugs are out heavily in the evening), so plan on throwing the can in your purse and reapplying half way through the evening.
4. Lotion
Mary Ann's Naturals Organic Handcrafted Light Moisture Cream

This is the very first chemical-free product that I started trying to find. The hunt began when my oldest was a baby and had sensitive skin (her skin wasn't really sensitive I decided later... her brand new body was just reacting to all the chemicals in the baby shampoo that the hospital sent home with me... read that label, that stuff is awful).
Lotion doesn't need to be too complicated, but complicated it is. Traditional lotion has 33 different chemicals in it. Again, if you are going to eat well and exercise, it's wise to not smear strange chemicals all over your biggest organ. While I was doing some research I read that it only takes 23 seconds for some of those chemicals to reach your blood stream. That's just crazy. So ditch the traditional lotion and try something new. I use a Mary Ann's Naturals
moisture cream on just about everything. It's super thick and works so well. This is great on my face after a shower, on legs after shaving, and it does wonders on my rough gardener hands.
This lotion takes a little longer to soak into your skin than commercial lotions. Without alcohol in it, it stays on your skin and takes 10 to 15 minutes to absorb. I just put it on after my shower and then it soaks in while I am dressing and doing my hair. It feels a little heavy at first but after that 10 to 15 minutes your skin feels so soft and smooth. It does a better job hydrating skin because it really soaks in deep. It takes a little getting used to but I really think the end result is better. It also has a shelf life of about 4 months because there are no chemical preservatives in it to keep the oils from going rancid. This is a good thing if you ask me. It just goes to show that it is made out of real things!
Mary Ann just developed and started making a lighter moisture cream too that I can't wait to try.
5. Sunscreen
The Honest Co. Sunscreen SPF 30
Their sunscreen is great and you CAN use it on babies under 6 months old (very few sunscreens can be used on young babies). It is a little greasier than traditional sunscreen and it doesn't have that memory inducing sunscreen smell, but it works really well and goes on nice and smooth. I went through 3 bottles of it last year and I just ordered that many more for this summer.
If you are going to be spending any time outside this summer, this sunscreen is a must have.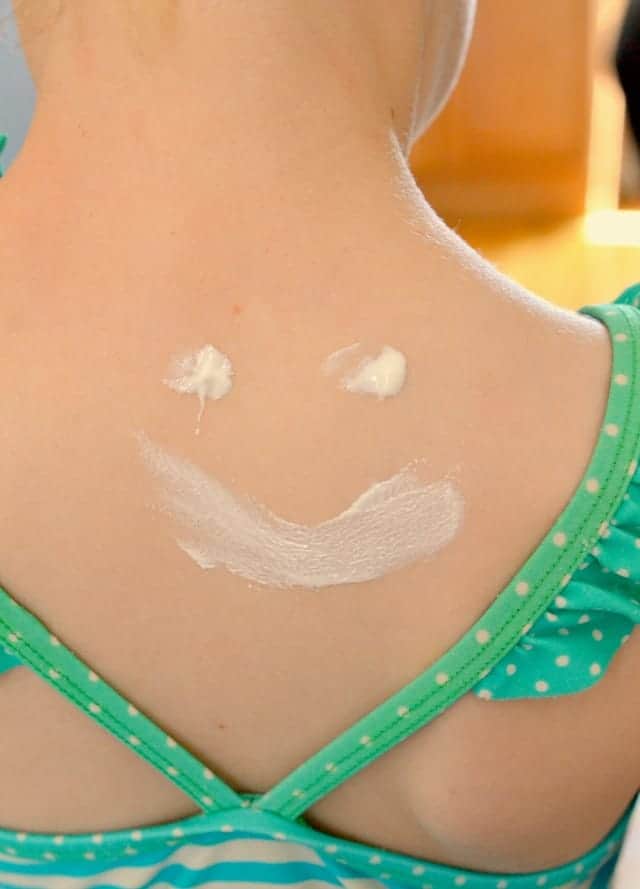 Now, I'm not the type of person who is going to post the million chemicals that are in traditional skin care products and try to scare you out of using them. But if you start to do a little digging you'll scare yourself right out of using them. Sometimes I'm just shocked at what we allow to be sold, but it happens. A little education goes a long way if you ask me. Slow Death by Rubber Ducky
is a book that I picked up at the library 3 or so years ago and it totally changed how I think. Knowledge is power and this book literally changed my behavior because of the knowledge that it gave me. That's powerful. I highly recommend it.
If you think what you are using is pretty healthy or chemical free (there's all kinds of false and misleading advertising out there) put it to the test. One of my favorite websites is called Skin Deep. It's a free database of thousands of products. You just search for what you use and it'll pull it up and give it a rating. The lower the number the better. If the product has questionable ingredients in it, it tells you what ingredient it is and how your body reacts to it. It's really, really interesting! Take a look and see how your favorite products rate. I think you'll be shocked.
And because we all need a little incentive to change our current buying habits, I've teamed up with the Mary Ann of Mary Ann's Naturals to do a giveaway today!
Mary Ann of the company Mary Ann's Naturals is an acquaintance of mine (her daughter-in-law is one of my dearest friends) and we share a common love of healthy chemical-free living. Mary Ann actually started her company because she had such a hard time finding everyday beauty products with good-for-the-body ingredients. I love using her products she makes by hand in her home in Oregon. She also just started a blog, The Quart Jar Kitchen. We were meant to be friends 🙂
She agreed to host a giveaway here today to give one lucky winner a big gift set of some of her most popular products.
Good luck!
Now, these are all products that I use and love. This isn't a sponsored post, just an informational one. It does include Amazon affiliate links. If you are thinking about buying from the Honest Co. and would like, you can use THIS LINK, and I'll get a $20 credit for my next purchase (wohoo!). If you like their products you'll get your own little link like that too and can earn product for referring yours friends. Don't feel obligated, but I thought I'd mention it.
Thanks for stopping in. I hope this got you thinking about making a few changes. You won't regret taking the time, spending a little extra, or getting educated.
And I love a good product recommendation! What are you using and loving? I'm still on the hunt for a good chemical free shampoo, conditioner, and dishwasher soap, plus I'm sure their are so many great products I don't know about. I'd love to hear what you are using.