Pumpkin Week is coming to a close but we are going out with a bang! Today I'm sharing one amazing roundup of 40 Sweet and Savory Pumpkin Recipes.
I've got you covered in the pumpkin recipe department. Check out Pumpkin Pie Recipe, Pumpkin Pie Spice Spritz Cookies and Homemade Pumpkin Pie Pudding. They are all delicious!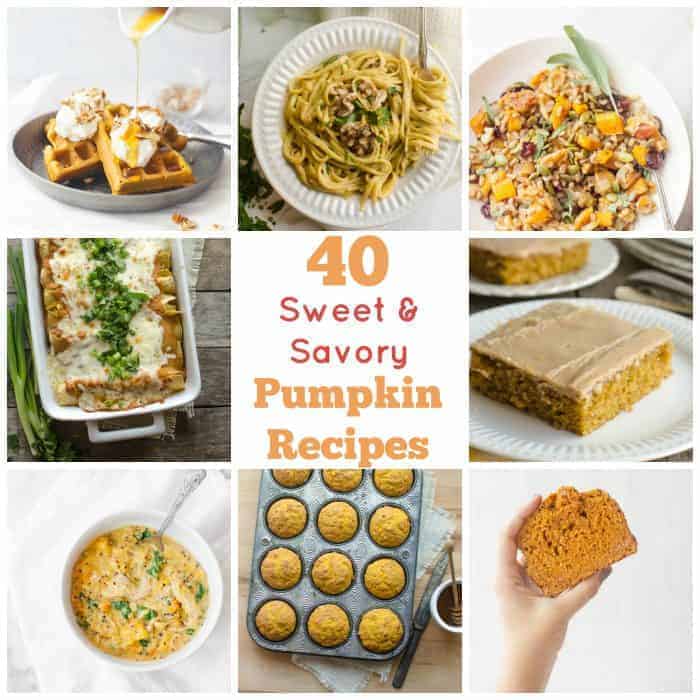 40 Sweet and Savory Pumpkin Recipes
I've worked all week with Cassie from Wholefully and this post is the pinnacle of all of our pumpkin recipes. Every one of these 40 recipes is either from my site or from her's, so you know that they are bound to be delicious tried and true pumpkin recipes that you'll love to make again and again. Looking over this list just makes my heart happy! There's so many hours work in one place and I'm pretty proud of each of these pumpkin recipes; I know Cassie is too.
Be sure to pin this collection and share it with your friends and family so that you can find it whenever the need for pumpkin hits. We've got your back when it comes to great pumpkin recipes. Enjoy from our kitchens yours!
Savory Pumpkin Recipes:

Baked Parmesan Pumpkin Fries
Blender Pumpkin Bisque
Chicken Pumpkin Quinoa Chowder
Creamy Pumpkin Chicken Enchiladas
Easy Chicken Pumpkin Pot Pie
One Pot Creamy Pumpkin Pasta
Pumpkin Black Bean Burgers

Pumpkin Cornbread Muffins
Pumpkin Skillet Biscuits
Pumpkin Spice Buttermilk Biscuits
Roasted Apple and Pumpkin Farro Salad
Roasted Pumpkin Seeds, Six Ways
Savory Pumpkin Hummus
Two-Ingredient Fresh Pumpkin Pasta
Vegan Pumpkin Black Bean Chili
Sweet Pumpkin Recipes:

Extra-Thick Pumpkin Cake
Healthy Pumpkin Protein Smoothie
Homemade Pumpkin Pie Pudding Cups
Honey Roasted Pumpkin Seeds with Cinnamon
Lighter Pumpkin Pie with Cinnamon Walnut Streusel
No-Bake Pumpkin Oatmeal Energy Bites
No-Churn Pumpkin Ice Cream
Oatmeal Pumpkin Breakfast Cookies

One Bowl Whole Wheat Pumpkin Bread
One Hour Pumpkin Cinnamon Rolls
One Minute Pumpkin Spice Cake
Pumpkin Buttermilk Pancakes
Pumpkin Caramel Spice Waffles
Pumpkin Oatmeal Chocolate Chip Cookies
Pumpkin Pie from Fresh Pumpkin
Pumpkin Sheet Cake with Caramel Frosting

Pumpkin Sheet Cake with a Simple Cream Icing
Pumpkin Spice Cake Balls
Pumpkin White Hot Chocolate
Pumpkin Whoopie Pies with a Whipping Cinnamon Filling
Small Batch Chewy Pumpkin Spice Cookies
Soft Pumpkin Cookies + Pumpkin Spice Kisses
Soft Pumpkin Cookies with Sprinkles
Three Layer Pumpkin Brownies
Whole Wheat Pumpkin Waffles
Now THAT my friends is one epic list of pumpkin recipes. I hope you love them, make them, and enjoy them from our kitchens to yours.