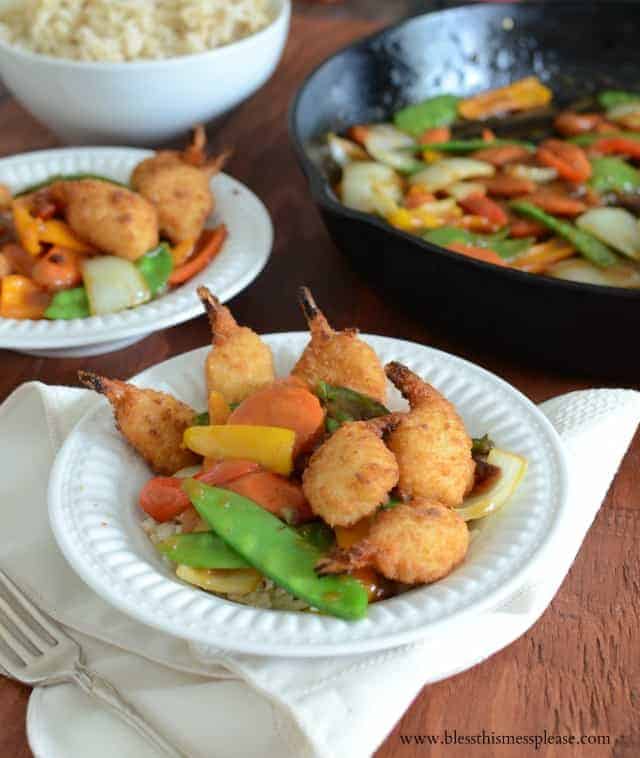 30 Minute Stir Fry with Crispy Shrimp
30 Minute Stir Fry with Crispy Shrimp was a huge hit with my family and it will be with yours too. Here's a little secret though, it's super easy! I saved myself a whole lot of time and effort by using frozen SeaPak Butterfly Shrimp.
It's super nice to have a few things in the freezer like this for busy nights. A rice cooker takes all the work out of making rice, Meal Prep Monday takes all the work out of the stir fry, throwing everything in a jar and giving it a shake takes all the work out of the sauce, and SeaPak Butterfly Shrimp take all the work out of the tastiest part of the meal. Really, this meal practically makes itself!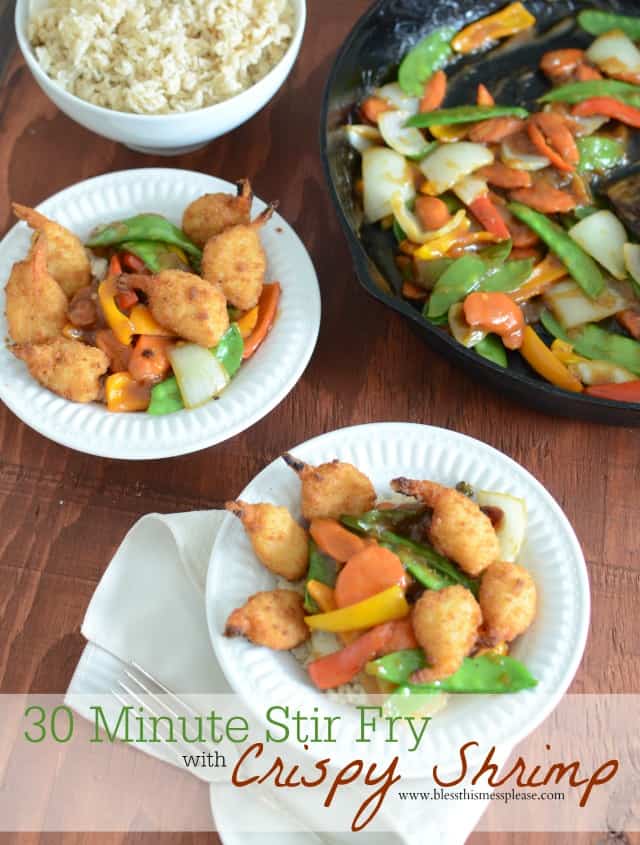 Disclosure: This post is sponsored by SeaPak Shrimp & Seafood Co. When an offer came along to blog about shrimp I had to say yes or my kids would have kicked me to the curb. Shrimp is one of their very favorite foods! We've enjoyed SeaPak often (I can actually buy it in our little store!) and I already knew I loved their product. Thank you for supporting the brands I thoughtfully choose to work with!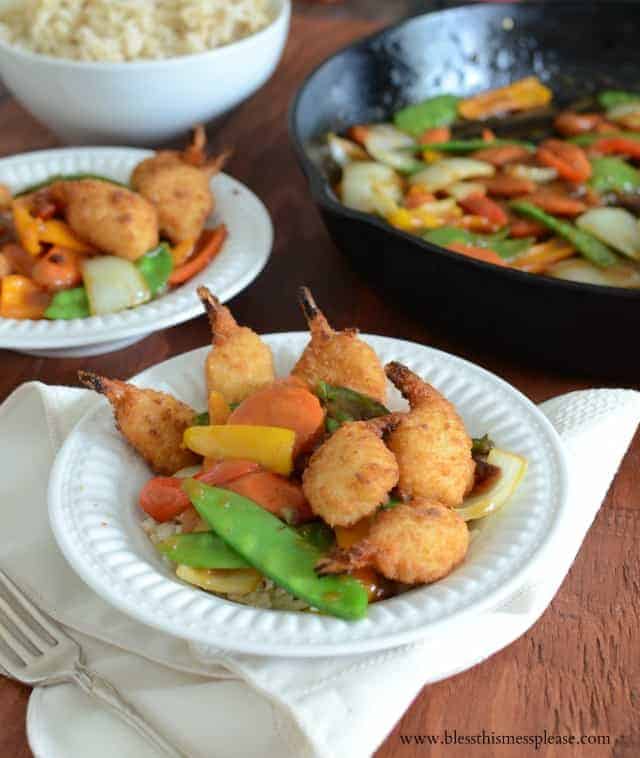 Good food doesn't have to take forever.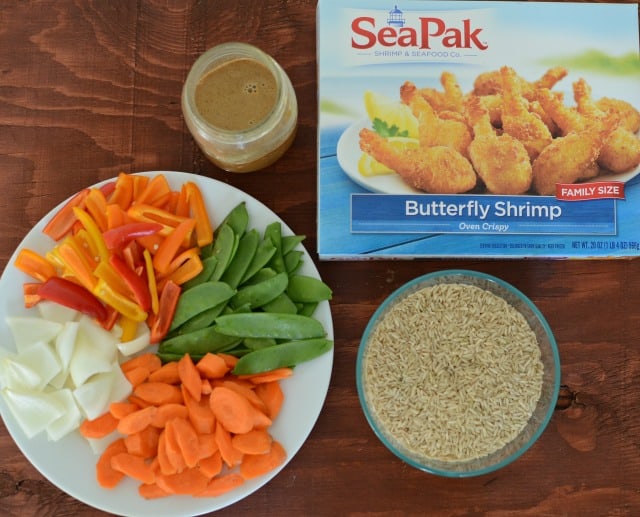 Print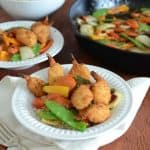 30 Minute Stir Fry with Crispy Shrimp
---
Author:

Category:

Dinner

Method:

Bake

Cuisine:

American
Description
30 Minute Stir Fry with Crispy Shrimp
---
Ingredients
For the Rice:
2 cups long grain brown rice
2 1/4 cups water
2 tablespoons chicken bullion (I like Organic Better then Bullion)
For the Sauce:
1/3 cup cold water
2 tablespoons corn starch
1 cup juice (see notes)
1/4 cup soy sauce
1/4 cup white or rice vinegar
1/2 teaspoon ground ginger
1/2 teaspoon onion powder
1/2 teaspoon garlic powder
1 teaspoon toasted seasame seed oil
1/4 teaspoon red pepper flakes, optional
For the Stir Fry:
1 to 1 1/2 pounds assorted vegetables cut into bite-sized pieces. Broccoli, sweet bell peppers, carrots, onion, snow peas, mushrooms, and/or asparagus are all good options.
1 tablespoon olive oil
For the Crispy Shrimp
1 package SeaPak Butterfly Shrimp
---
Instructions
For the Rice:
Place all of your ingredients for the rice (rice, water, and bullion) in a rice cooker and get it started. The rice is what takes the longest to cook. If you don't have a rice cooker I'd recommend making white rice on the stove top according to package directions (brown rice is always crunchy when I make it on the stove so I only make it in a rice cooker!)
For the Sauce:
Place the cold water and cornstarch in a mason jar, add the lid and shake until completely combined. Add the rest of the ingredient to the jar, replace the lid, and shake well to combine.
For the Stir Fry:
Wash and cut vegetables of your choosing. Heat a large skillet over medium high heat and add one tablespoon of olive oil. Swirl the oil in the bottom of the pan so that it coats the bottom. Add the vegetables that take the longest to cook (in my case it was the carrots and onions). Cook those vegetables for 4 or 5 minutes. Add the remaining vegetables and cook for another 3-5 minutes, stirring often, until the vegetables are tender crisp. Give the sauce in the jar a good shake and then carefully pour it into the hot pan with the vegetables. Stir constantly, scraping the bottom, until the sauce thickens and changes from a milky brown to a clear reddish color, 2-3 minutes. Remove the heat right away.
For the Shrimp:
Cook the shrimp in a hot oven, according to package directions. This should take 10-12 minutes. Preheat the oven but don't put the shrimp in until you are getting ready to cook your vegetables so that they come out hot as the vegetables are getting done.
Once all of the parts of the dish are ready assemble by adding rice, then vegetables, then shrimp to your bowl. Enjoy right away.
Notes
*Juice- 100% apple juice or white grape juice are great options. If you like the flavor of pineapple you could also use pineapple juice. I used apple juice and it gave it just the right amount of sweet.
Keywords: Shrimp, 30 Minute Meal, Seafood, Stirfry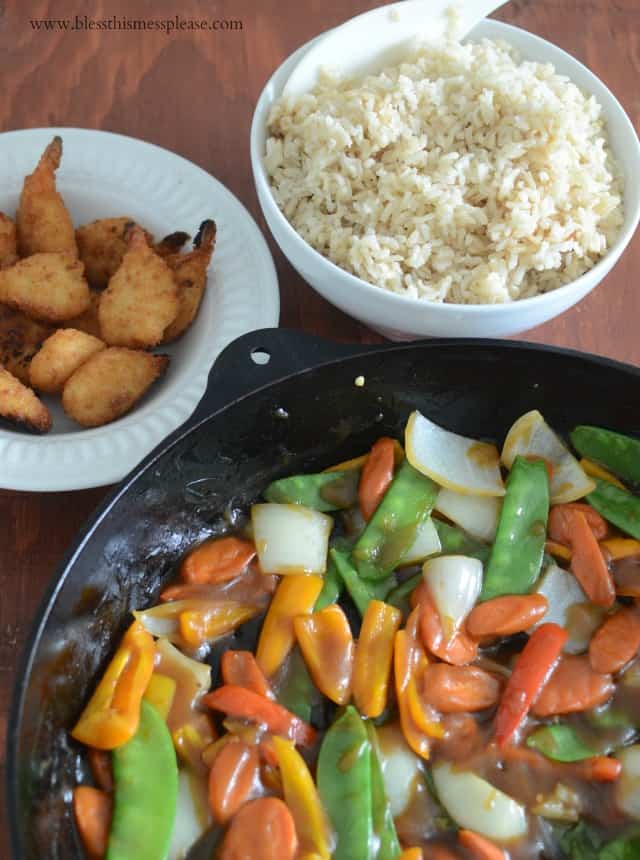 I didn't get this week's meal plan posted late last week like I planned, but I figured Monday was better than not at all.
Here's what we are eating this week. (You can see my other meal plans here – week 1, week 2, week 3, week 4).
Breakfast:
Monday- Oatmeal
Tuesday- Eggs
Wednesday- Smoothie (+ toast for the kids)
Thursday- Oatmeal (probably steel-cut oats)
Friday- Eggs
Saturday- Whole Wheat Pancakes or Waffles
Sunday- Granola (cold cereal for the kids, we have early church this year, so quick and easy is the go-to!)
Note: I keep this the same every week for convenience.
Lunch:
Leftovers
Open faced sandwiches with lots of veggies and spicy brown mustard
Salad in a Jar
Boiled eggs on toast and/or avocado toast
Dinner:
Monday: 30 Minute Stir Fry with Crispy Shrimp
Done and done! Go heavy on the veggies and be mindful of what a serving of shrimp is (it's 7, which is not too shabby!). That crispy shrimp was such a treat! Since eating out is really hard when you are trying to eat well, it felt special, but at home. You will love it.
Tuesday: Steak Tostadas
Tostadas are one of my all time favorite foods (here's my recipe). I think I'm going to try oven baking the shells to form the crispy tostada instead of pan frying them. I'll let you know how it goes. The steak is all cooked in the slow cooker, so this is a really low-key meal. Just chop some veggies up and serve it with a little cheese and your favorite taco-style toppings. Mmmmm.
Wednesday: Baked Potatoes
Easy! I oven bake my potatoes (recipe here), because they are amazing. I'll serve this with steamed broccoli and cauliflower, as well as a quick homemade chili (sautéed onions and peppers plus a can of beans and can of diced tomatoes seasoned with cumin, chili powder, garlic powder and salt. Simmer until slightly thickened).
Thursday: Tortellini and Spinach Soup
I used to have a really easy recipe for this soup which had some canned tomatoes, frozen spinach, and frozen tortellini in it. It was super easy and really delicious! If I can find my old recipe, I'll try to take pictures and share it, because it's a keeper. I'll serve this with some homemade Rustic Italian bread (which might be the best bread ever…). We find out the gender of the baby this day and I can't wait to let you know!!!
Friday: Shepherds Pie
I made a double batch of this a few months ago and stuck one in the freezer. I'm planning on easy this Friday and will just use the one I have in the freezer.
Saturday: Shrimp Scampi Foil Packets or Aloha Salmon Burgers
I haven't decided which I'll try, but they both looked awesome. The salmon burger (recipe here) looks really flavorful because you baste it with teriyaki sauce while it grills. All the deliciousness means you don't need mayo. And hello grilled pineapple! The Shrimp Scampi Foil Packet (recipe here) looks so light and easy. Save that recipe for the summer too, when you have zucchini and squash in the garden (I'm always looking for more zucchini recipes!). It's Saturday though, and either of those options will come together quickly with the help of SeaPak.
Sunday: Leftovers
All the cooking means that you probably have some leftovers to enjoy! I take Sundays off and it's a fend-for-yourself day. Cold cereal, jam sandwiches, grilled cheese, and popcorn are my other go-to's if the leftover pickin's are slim.
Doesn't that Aloha Salmon Burger looks amazing? I'm pretty sure I've convinced myself that that's what I'll make on Saturday.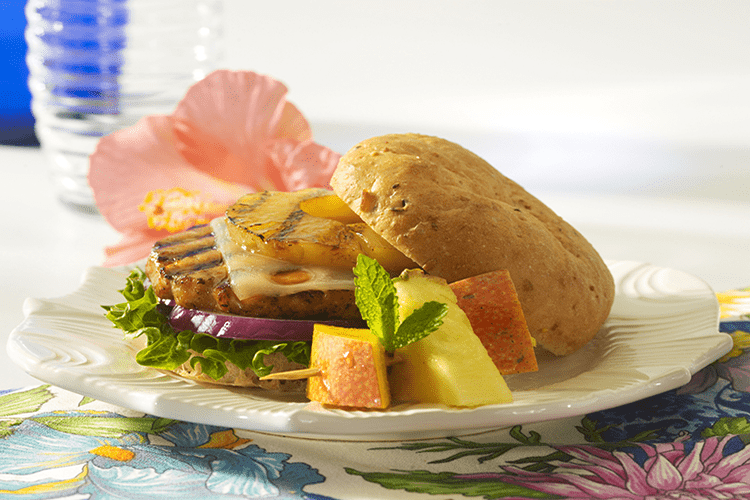 I had so much fun making this crispy shrimp with SeaPak, and the best part? You get to have a little fun too. If a new stir fry recipe and meal plan didn't perk up your Monday enough, maybe a year supply of SeaPak will! Just enter below.
Thank you so much for stopping in and have a great week friends!