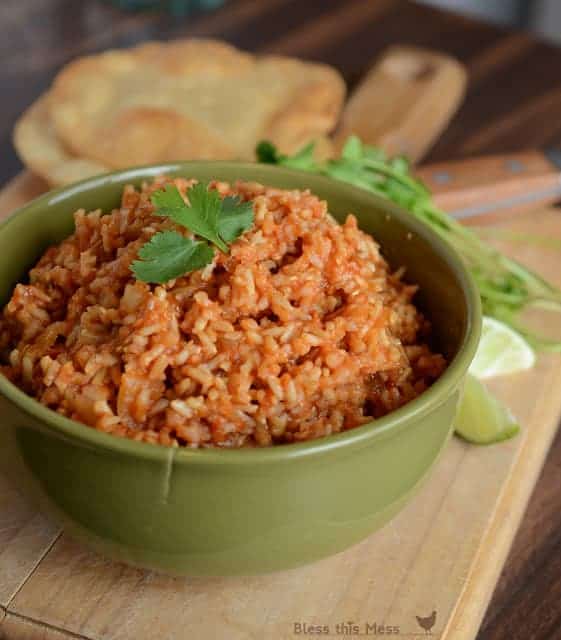 Mexican food is in my favorites category. I love everything from tostadas and steak carnitas to simple bean burritos and salsa. Easy Spanish rice is the perfect side for all that Mexican food and this recipe is so easy because the rice cooker makes it for you. Just dump it all in and go. I like to make this rice when company is coming over and I have enchiladas planned because it makes the main dish stretch and the left overs are great inside bean burritos for lunch.
Why the rice cooker when you can make it on the stove-top? Well, unbeknownst to you is the rice curse that has been placed on my head. I cannot, for the life of me, make non-crunchy rice outside of the rice cooker. Ever. If you don't have a rice cooker I'm sure this could be done on the stove-top in a similar way, just don't ask me how.
One more thought for you. There are lots of types of Spanish or Mexican rice and this one is very similar to the Rice-a-Roni type that comes in a box that you make on the stove-top with a can of tomatoes. I grew up with that kind and like it, so expect something close to that in flavor.
Enjoy this easy recipe and thanks for being here!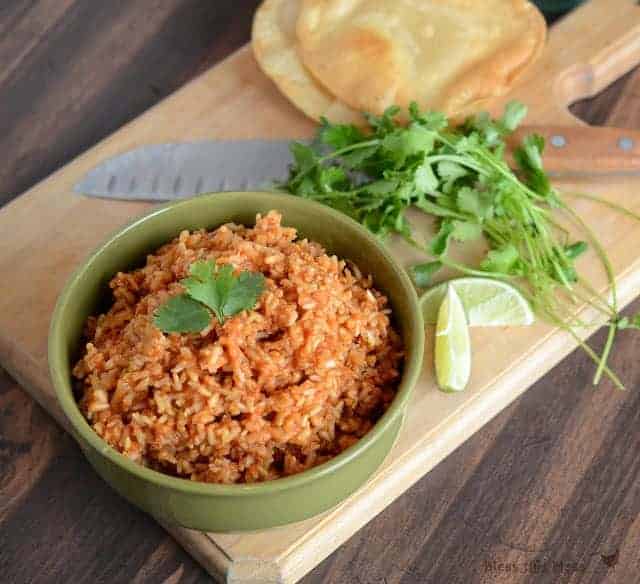 Print
Easy Spanish Rice in the Rice Cooker
Yield:

Makes 5 cups of cooked rice
Ingredients
2 cups rice
1 14-ounce can diced tomatoes, with juice
3 1/2 cups water
1 small onion, diced
3 bullion cubes or 3 tsp. Better than Bullion
3 T. chili powder
1 tsp. salt
1 tsp. cumin or smoked cumin
1/2 tsp garlic powder
Instructions
Place the rice in the bottom of the rice cooker and then add the diced tomatoes and water. Add the onion and spices and stir a little on the top to dissolve the spices in the water. Cook according to manufactures instructions. When the rice is cooked, test for salt and add more if needed. Serve as a side dish or inside your favorite burritos and tacos.
Notes
Notes:
I use brown rice and increase my water by one cup. The Spanish rice in the pictures was made with brown rice and I bet you didn't even notice. Your family won't either.