10 Secrets to Raising Happy Kids
Parenting is long and tiring work, but when you can find a little more joy in the journey it sure makes the job more fun. Today I'm here to share 10 secrets to raising happy kids which in turn means a happy Mom too.
Most of you know me as a food blogger and budding hobby farmer, but a mamma is who I truly am. I have three young children who are six, almost four, and two. Number four is due at the end of the month. When number four is born I will have had three little boys within 4 years of each other! It was on purpose 😉 and a choice that I'm proud to say I love. I don't have a degree in early childhood education or psychology but I do have six solid years of mothering young kids under my belt, and boy, what a teacher real life is. So am I an expert? No. But have I learned a few things over the years? Yes!
I've made a very conscious effort to be an intentional mother and here are some of my best tips and tricks to raising kids.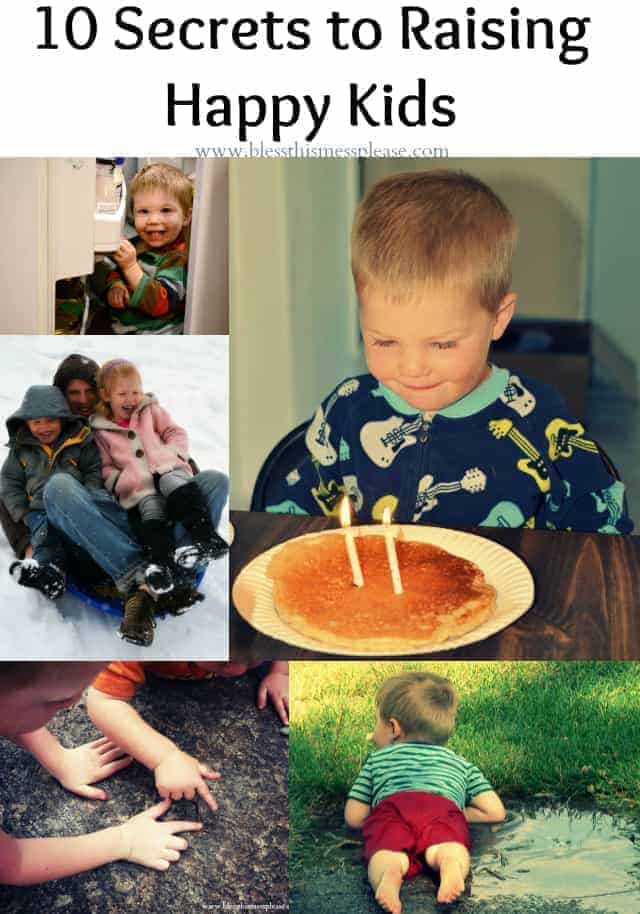 Find adventure together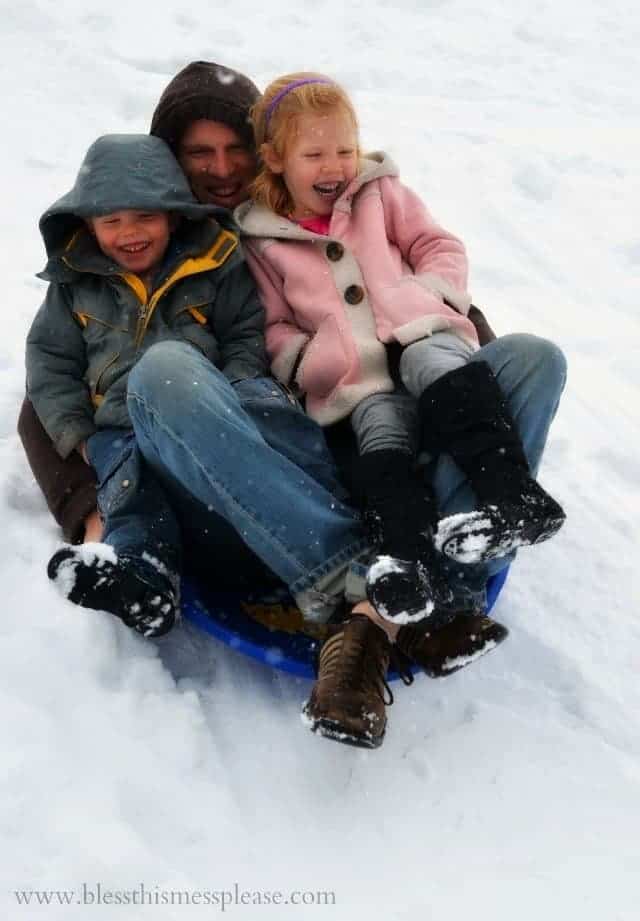 1. Find adventure together-
Exploring and making memories is one of the best habit you can get into. You and your kids will both remember your adventures far longer than you'll remember how that TV show or movie ended. You'll have so many more memories if you are willing to get out and make them. A little effort on your part is all it takes. We like to roast marshmallows in our fireplace, go on bug hunts by turning over stones and logs outside, and explore the cemetery together. Yes, the cemetery. You'd be amazed at how connected kids can be to loved ones past if you are willing to share their story. We hike, and garden, and have chickens. We build fairy houses, forts, and bridges at the creek. We love to be together doing something, anything. If you make the effort, your kids will benefit and you'll find yourself enjoying the time too.
Date your Kids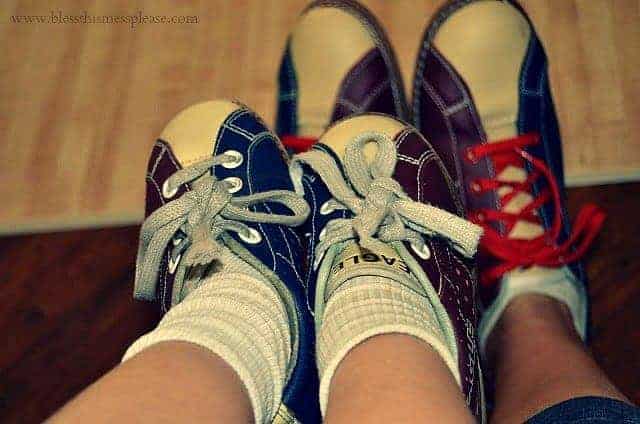 2. Date your kids-
Spending one on one time with each of your children is so important and so easy to forget. When I date my kids it helps me to enjoy them for who they are more, it makes wonderful memories, and it gives us a chance to talk. Most of the time are dates are simply walks or hikes, a trip into town together, or being allowed to stay up later than the other siblings to talk. Of course well planned dates like bowling or a trip to the ice cream shop are always fun, but big or little, one on one time in invaluable.
Don't Fear Dirt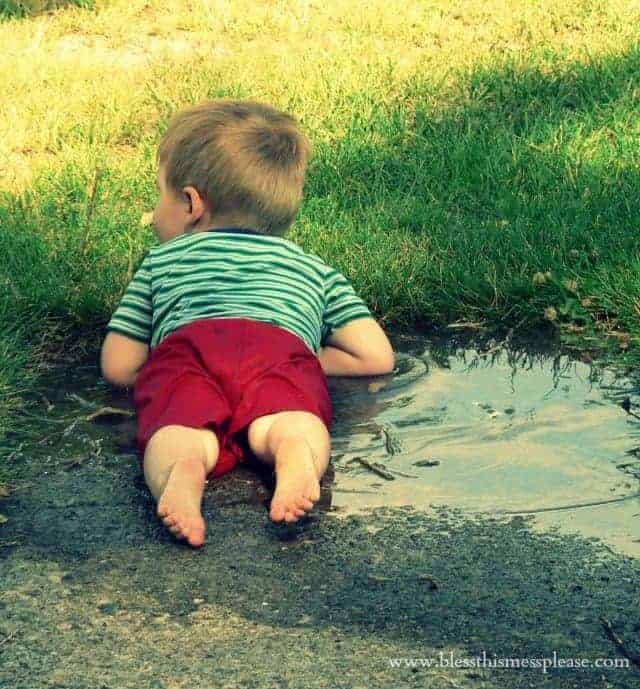 3. Don't fear dirt-
There's a little secret that I've learned in my short 6 years as a mother. That secret is something that I call "dirt therapy". Kids need a chance to unwind and just let their little hands be busy. There's no better place to do this than outside in the glorious vitamin D-giving sunshine with a shovel and a patch of dirt. If I or one of my kids is having a hard day then outside we go for a little dirt therapy. It cures 99% of ills including general two-year-old grumpiness, I promise!
Don't be their only love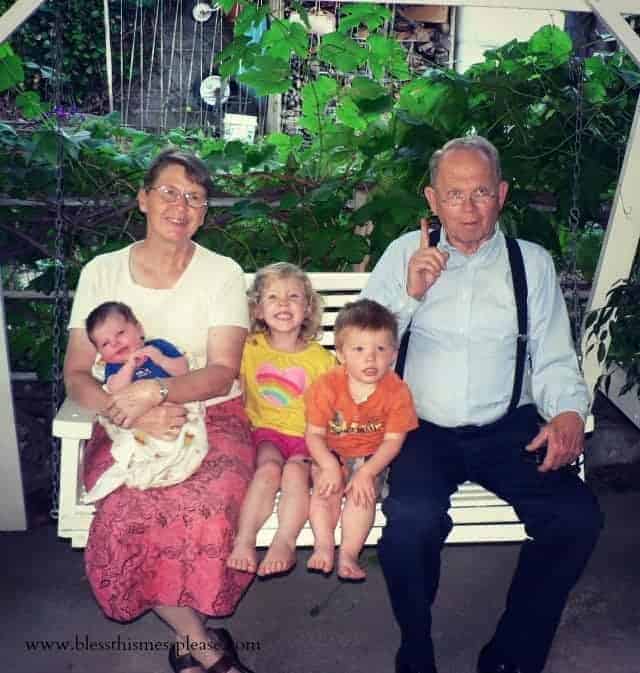 4. Don't be their only love-
Most of my life as a mother has been spent far from true "family" of any kind. That being said we have always had people in our lives to fill the roll of grandparents and aunties and uncles. The picture above is of our favorite set of "grandparents" who loved and enjoyed our kids while no true set of grandparents lived near. There's something magical about relationships between special grown-ups and children; I truly believe that all children need lots of people to love them unconditionally in their lives, not just Mom and Dad.
Let them create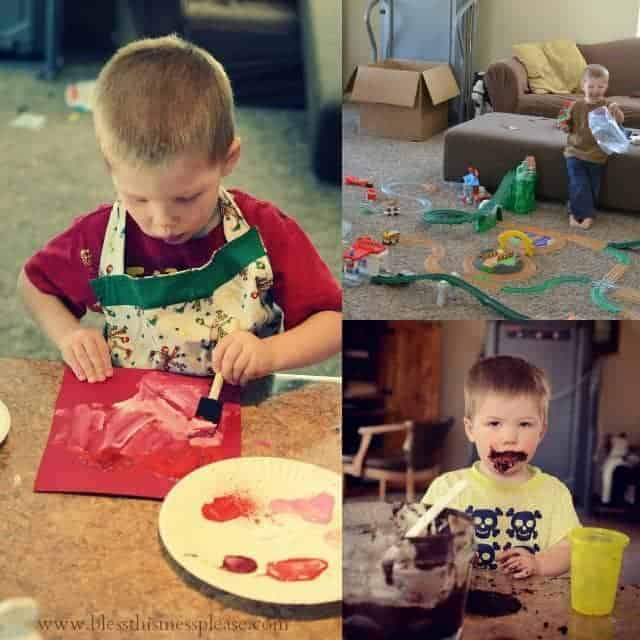 5. Let them create-
We all know how much of a hassle it can be to drag out the finger paint just to turn around and clean up the mess that has consumed your kitchen in only 6 minutes. And if you think play dough is the stinkiest invention in the world, I'm with you. But sometimes the mess and the smell are worth the "trouble". Give your children chances to create and use their incredible minds. Our favorites include making "houses" for little toys out of anything we can find outside – rocks, sticks, grass, flowers, you name it and we've used it. I love to bake with my kids and creating artistic master pieces to send to Grandma who lives way too far away always top our list.
True happiness comes from the joy of deeds well done, the zest of creating things new.- Antoine de Saint-Exupery
Let them be silly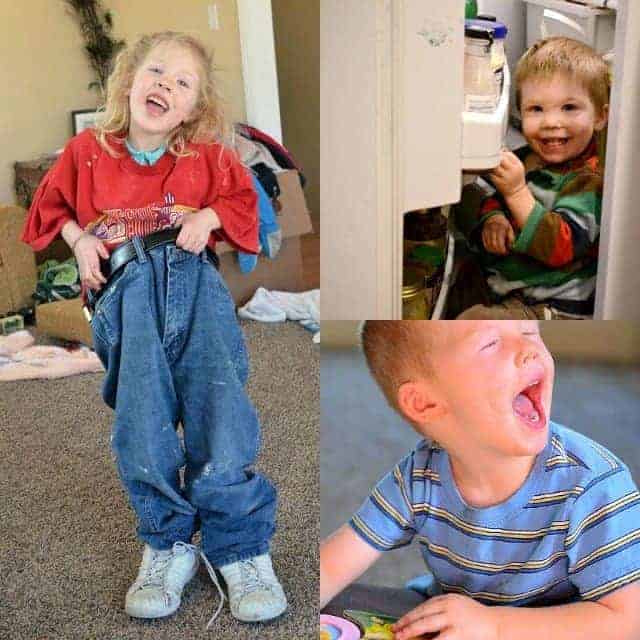 6. Let them be silly-
So often we expect kids to act like little adults. At the dinner table manners are needed, but don't forget that it's OK to be silly too. In this picture our oldest snuck into our room and put on her dad's work clothes one night after dinner. She came out decked-out like her dad and saying the funniest phrases. We could have frowned and asked her what she was doing in our room and then told her to go take the bath she was avoiding, but we enjoyed the moment and let her be silly. Be slow to scold when your baby sneaks in the fridge to play trucks and then your three-year-old keeps singing the same song over and over (and over) again. It's OK to be silly.
Let them take the reins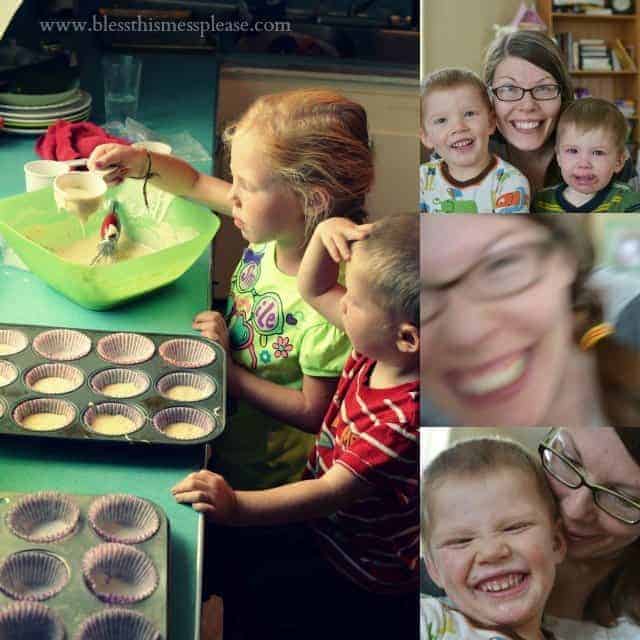 7. Let them take the reins
Trust them more and let them take control once in a while. My kids surprise me all of the time by being able to do things I was sure they were too little to do. May was intent on making her own birthday party cupcakes by herself. I was sure she'd need help when it came time to scoop out the batter evenly into the tin, but she was thoughtful and careful and did it on her own. And you know what, she and I were both so proud of her at the end of the day. My kids also beg to take pictures with my camera. My camera is one of the few things that I've really invested in and they know that it is something to be taken care of. When I finally let them, with a few instructions and rules, they are awesome photographers. And I now have pictures of myself that I wouldn't other wise have (never being in the pictures is the downside of being the family photographer!). Let them take the reins a little more often and you might be surprised where they take you.
Don't under estimate the little things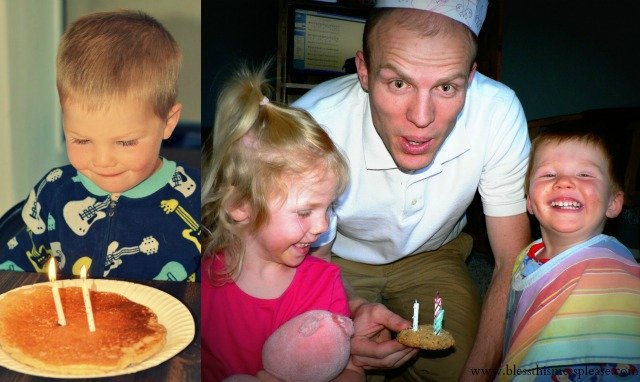 8. Don't underestimate the little things-
Everyone knows that band-aids are a cure-all, but did you know that birthday candles will turn any meal or treat into a true party? And what effort does it take to get them out and light them? Next to none! Find something that your kids love and do it more. Why save the candles for birthdays when you could get them out for passing a spelling test? Don't under estimate the power of the simple little things.
Let them be little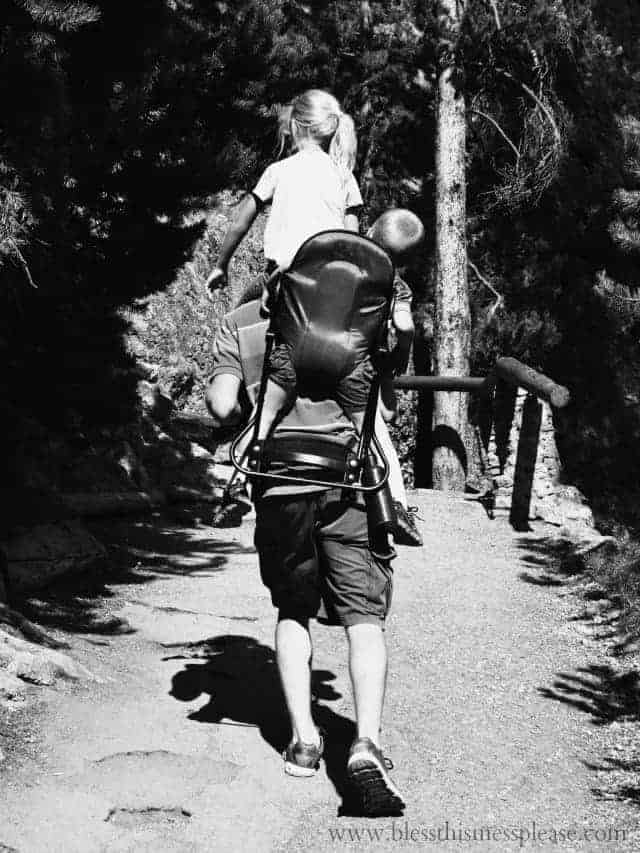 9. Let them be little-
Knees will get scraped, little bodies will get tired and hungry, and feelings will be hurt. Expect the tears and the tantrums because they are part of life, especially when they are little. Do the most you can though to help them through the hard times. We went to Yellowstone this summer and spent a wonderful 2 days hiking and exploring. At the end of the first day we were all getting tired when we decided to do one last hike to go see a waterfall. The hike was listed on the map as being very short, but what we didn't know was that it was all switchbacks, which meant the whole way back up was so steep. The kids were exhausted and our six-year-old simply refused to walk anymore. Instead of threatening or demanding, her daddy picked her up, and her three-year-old-brother too, and packed them all the way to the top. BOTH kids! (I was 7.5 months pregnant then and just couldn't carry one…) He understood they were just kids and that we, the parents, had chosen the situation. Sometimes it's hard being a parents but don't' forget that sometimes it is hard being a kid too.
Teach them by example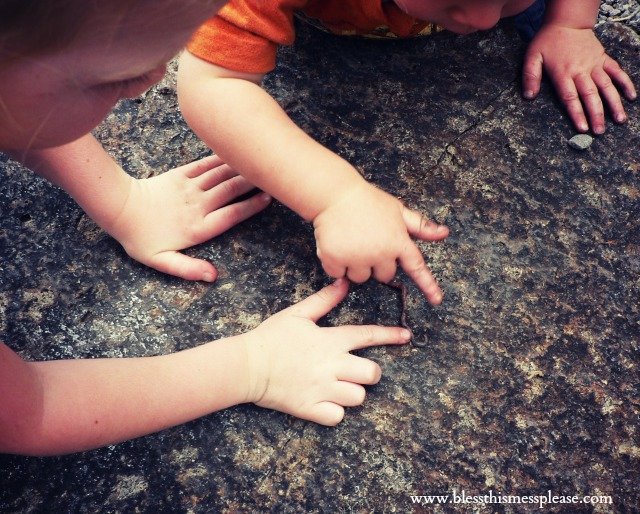 10. Teach them by example-
"[Kids] don't remember what you try to teach them. They remember what you are." ― Jim Henson
Are you someone who you'd like your kids to be when they grow up? I sure hope so because you are teaching them every day just by being near them. Take that to heart and be the parent they need you to be.
I've been working on this post for weeks and it is something I truly enjoyed writing and I hope that you enjoyed reading it just as much. I wasn't alone in my writing efforts. I've been emailing and chatting with some of my closest personal friends and women I know are good mammas to brainstorm and get ideas on how to intentionally raise happy kids. And you know what else? This is a sponsored post from the folks over at Boba who specialize in adorable baby carriers.
I got an email weeks ago asking if I'd like to participate in a blogging campaign working with this company and I was really excited. Baby number four is just around the corner and I "wore" my other kids lots! The last two little boys are only 19 months apart, so when the baby was born he practically lived in a wrap because it was the only way I could get something done and still take care of his siblings. Is that the eleventh secret?! Wearing your baby will make them and YOU happier. I sure think it is. I honestly cannot imagine grocery shopping with a newborn without a baby carrier. I'm not one to lug my big old car seat around. With other kids riding in the cart, I hardly have room for the groceries let alone a baby in a carseat.
And here's how we survived the airport with 3 kids four years old and under: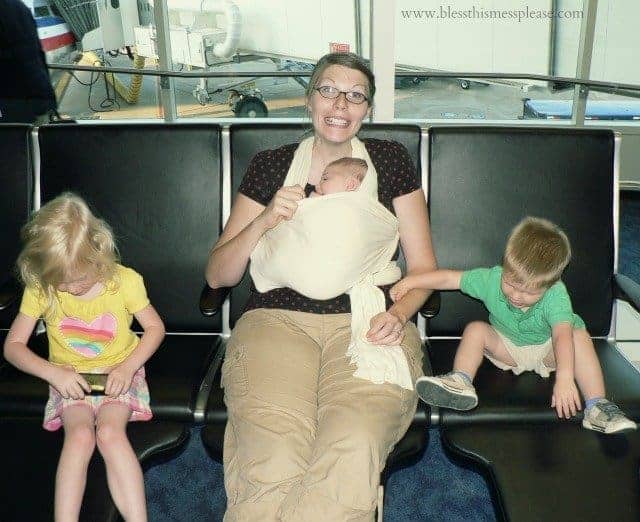 And a family reunion (all of Mom's 2011 grandbabies together for the first time!):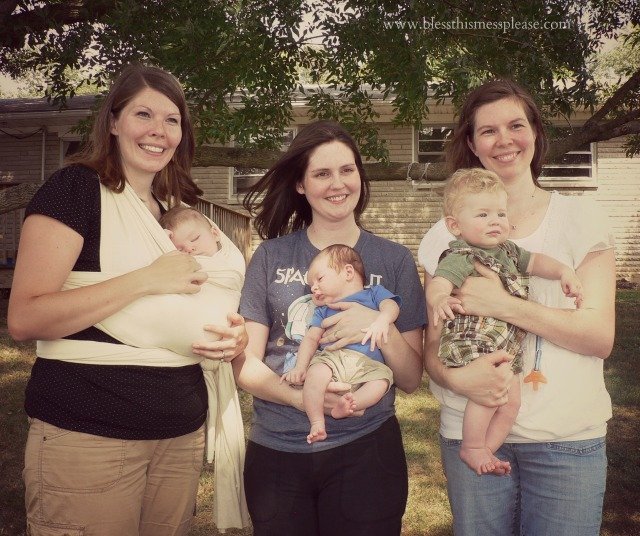 So I said I'd definitely blog about their wraps. When I got the project details there was no baby carry involved?! I was sure it would be a product review and maybe even a giveaway, but instead I was asked to write a post on "how you are establishing a lifelong bond with your children". Say what?! You want me to blog about my kids? Deal! So instead of just answering the question I went with the 10 fun points I shared today.
So who's the fun company that let me blog about my sweet kids? Boba! And I do owe them a big shout-out. I didn't know much about them so I did some digging on the internet. They have baby carriers that are like front backpacks as well as wraps, which are what I really like (and I've tried about 6 kinds of baby carrying contraptions). They have organic carriers and they even have little tiny carriers for kids to carry dolls! I about died when I saw those. I'm wanting to get one for big sister so that she can carry around her "baby" while I carry around mind (Christmas present?). Their carriers were the 2012 Editor's Pick for Top Baby Carrier by BabyCenter.com too which says something to me. It really looks like a great product and one you'd definitely want to check out if you are in the market for a baby carrier for yourself or a gift. *cough, cough, Mom* I like this one *cough, cough*
Their Facebook page is full of funny Mom memes, they are great about pinning useful, cute, and funny things, and they are on twitter too.
I started a pinterest board just for this project that includes everything from articles that I read on parenting and Boba wraps, to funny memes and how to make your own baby food. Feel free to poke around and see what inspired me and follow along if you like.
Thanks so much for letting me share this with your today. I've really been looking forward to it and it turned out just like I was hoping!
Disclosure: I was paid to blog about my efforts as a mom to form bonds with my children and to introduce you to the Boba company. I haven't used any of their products, but I think they'd be a great place to look if you are in the market for a baby carrier or wrap.
To learn more and connect with Boba, Like them on Facebook and follow them on Twitter.
This is a sponsored conversation written by me on behalf of Boba. The opinions and text are all mine.