Guys, this is so fun!
I know that you all see "group giveaways" a lot, but this is totally a first for me. Carrie from over at Bakeaholic Mama was putting a group of bloggers together and asked if I wanted to join. YES! Thank you so much for thinking of me and asking Carrie! I'm feeling pretty fancy running in the same pack as these ladies… they are real bloggers! (Eeeeek!)
So what is a group giveaway?! We'll it's just what it sounds like. We all pitched in to buy a big prize (an iPad no less!!) and you all get a million chances to enter to win. I know not everyone likes so many options for entering but in my mind it's a fun way to get to know a few more blogs that you might not know about yet. You don't have to do everything for an entry either… just as many as you like. And if you already follow some it's practically a free entry. If you win the i-pad but already own one, no worries, just send it to me! It's been on Husband's wish list for years and I've yet to deliver.
Good Luck!
And just because you probably don't know all of these awesome bloggers I thought I'd give you a place to start. I asked then each to send me a link to their favorite blog post and here's what they sent. If you aren't hungry now, you will be in a minute.
Jen from Savory Simple: Strawberry Rhubarb Ice Cream and Sorbet
Jackie from Domestic Fit: Peanut Butter and Jelly Cookie Bars
Anna from Crunchy Creamy Sweet: Mini Frozen Coconut Dessert with Homemade Coconut White Chocolate Magic Shell
Averie from Averie Eats: Peanut Butter Chocolate Chunk Cookies
Amy from Very Culinary: Grilled Peach and Coppa Pizza
Gerry from Foodness Gracious: Blackberry Thyme Skillet Crumble
Lauren from Climbing Grier Mountain: Chicken Andouille Naan Pizza with Pico de Gallo and Jalapenos
Rebecca from Foodie with Family: Snickerdoodle Cake with Brown Sugar Cinnamon Icing
Carrie from Bakeaholic Mama: Buttermilk Sugar Cream Pie (I made this a few weeks ago and LOVED it!)
Brandy from Nutmeg Nanny: Smothered Burritos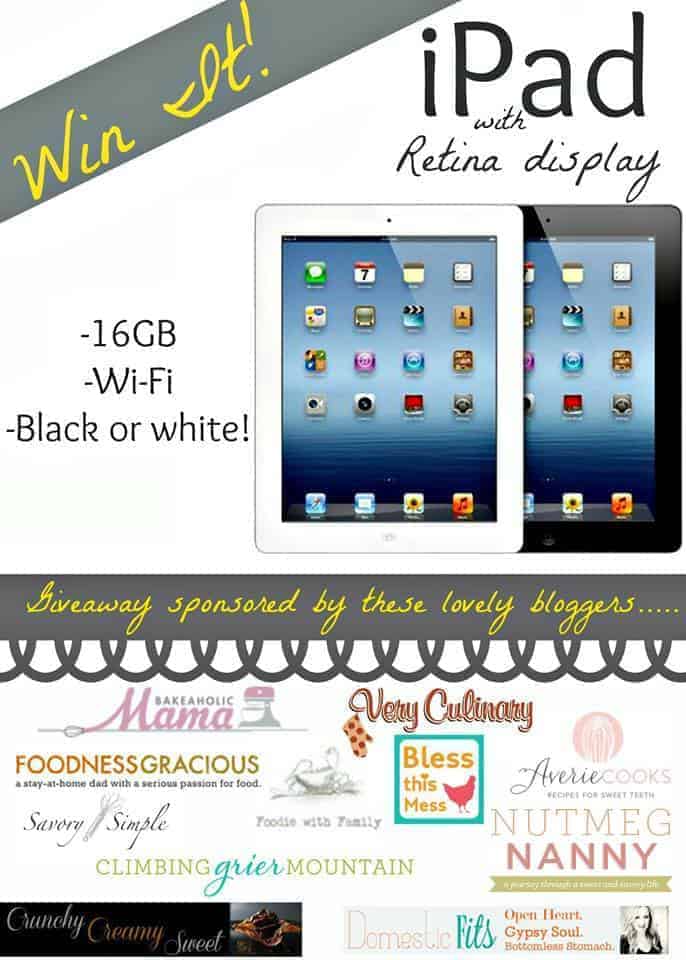 And here's how you enter… just click away!
Thanks so much for stopping in.